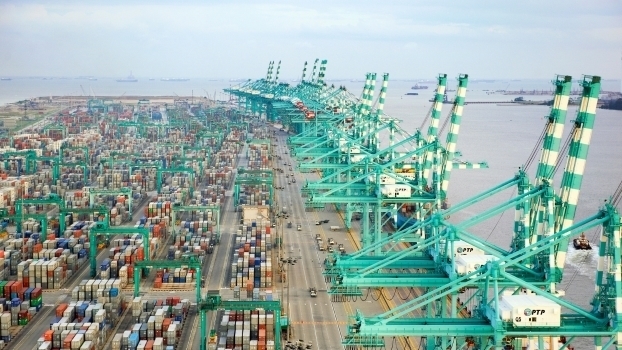 Over the last four decades, free trade agreements (FTAs) have become a ubiquitous part of our globalized economy, with individual states and regional trading blocs seemingly constantly agreeing on new trade agreements, allegedly in the interests of all parties involved, and trade relations between Europe and Asia are no different. But is that really the case? Do FTAs always bring the economic growth and material prosperity they promise? What about workers' rights, local sovereignty, and the impacts on the environment?
A new study from the Rosa Luxemburg Foundation, Casting Off the Chains of Unfair Trade, explores the effects of existing trade agreements between ASEAN and EU states, takes a closer look at potential effects of these agreements, and discusses alternatives approaches to organizing ASEAN and EU trade relations. Guided by the perspectives and voices of relevant local actors and international activists through many interviews, the study highlights real and potential negative impacts and people and the environment, and questions the dominant economic orthodoxy that has guided trade policy on both continents for so long.
An intensive and fruitful civil society dialogue in between ASEAN and EU civil society stakeholders is vital to a strong opposition against the forces continuing to drive a free trade agenda and the development of alternatives. Whether it's the current state of ASEAN-EU FTA negotiations, the impact of rules on investment protection, IPR protection, the lack of democracy and transparency in the free trade regime, or alternative visions such as degrowth and food sovereignty — we have a lot to talk about!
Join us for the launch event on Thursday, 8 June, at 10:00 CET / 15:00 ICT / 16:00 PHT.
WITH
Josua Mata is a workers' rights activist and Secretary-General of the Philippine Worker Union SENTRO
Rachmi Hertanti is a researcher with the Transnational Institute and former director of Indonesia for Global Justice, an Indonesian NGO working on all issues of trade policy and investment regulations
Kartini Samon is the coordinator of GRAIN, an international NGO working to support small farmers and social movements in their struggles for community-controlled and biodiversity-based food systems
Chalermsak Kittitrakul has worked as Coordinator of the Access to Medicines Campaign at AIDS Access Foundation, and has been involved in the civil society policy-advocacy movement to promote access to medicine in Thailand
Helmut Scholz, Member of the European Parliament for Die Linke, will also be present
Please RSVP here.
Contact
Dr. Arif Rüzgar
Economy and International Trade Programme Director, Rosa-Luxemburg-Stiftung, Regionalbüro Europäische Union, Brüssel