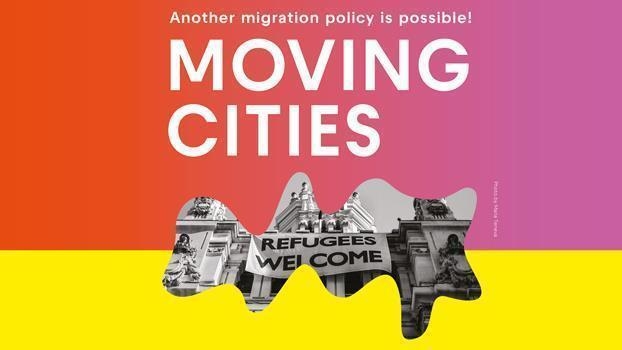 [English below]
Am 21. Oktober 2021 ist es so weit und unsere Webseite «Moving Cities» geht an den Start: ein Mapping, das detaillierte Recherchen über 28 fortschrittliche solidarische Städte und ihre Strategien zur Aufnahme von Migrant:innen und Geflüchteten in zehn europäischen Ländern bietet. Die Plattform richtet sich insbesondere an kommunale Mitarbeitende, Lokalpolitiker:innen sowie zivilgesellschaftliche Engagierte im Bereich solidarische Städte, die auf der Suche nach Anregungen und Strategien zur Veränderung ihrer lokalen Migrationspolitik sind.
Zum Launch laden die beteiligten Organisationen Rosa-Luxemburg-Stiftung, Seebrücke, und die Heinrich-Böll-Stiftung herzlich zur Online-Veranstaltung am 21. Oktober ein.
Neben einer Vorstellung der Webseite und einzelner Beispiele gelungener Migrationspolitik ist eine Diskussion zu ihrer politischen Bedeutung geplant. Im Anschluss folgen Workshops für kommunale Mitarbeitende, Lokalpolitiker:innen, und Zivilgesellschaft über Wege zur solidarischen Kommunalpolitik.
Die Veranstaltung wird auf Deutsch, Englisch, und Griechisch übersetzt werden.
Mehr Informationen zum Projekt gibt es hier: https://www.rosalux.de/news/id/45046/
Zur Anmeldung: https://us02web.zoom.us/webinar/register/WN_64YqBYaPQkWvLWdDHLVSHg
URL der Webseite – ab 21.10.2021 abrufbar: www.moving-cities.eu
PROGRAMM
10.00 Uhr Begrüßung durch die Initiator/innen
Dr. Ellen Ueberschär, Vorstand, Heinrich-Böll-Stiftung e.V.
Daniela Trochowski, Vorstand, Rosa-Luxemburg-Stiftung e.V.
Liza Pflaum, Mitbegründerin der Bewegung Seebrücke
10.15 Uhr Paneldiskussion: «Why does the local level matter?»
Über die Rolle und die Potentiale der lokalen Ebene und von Solidarity Cities bei der Aufnahme und Integration von Geflüchteten u.a. mit:
Prof. Barbara Oomen, Professorin für Soziologie der Menschenrechte an der Universität Utrecht und Projektleiterin von «Cities of Refuge»
Tareq Alaows, Experte für Asyl- und Migrationspolitik
Katja Dörner, Oberbürgermeisterin der Stadt Bonn
Mireille Alphonse, Stellvertretende Bürgermeisterin der Stadt Montreuil
11.00 Uhr Offizieller Launch der Seite und Zoom-In auf die kommunale Ebene anhand ausgewählter Beispiele
12:30 Uhr Parallele Workshops

Wohnraum, Sprachkurse, Betreuung, Bildung, Beschäftigungsmöglichkeiten...
sind nur einige der Fragen, die bei der Aufnahme undInklusion von Geflüchteten in europäischen Städten eine Rolle spielen. Dies sind gleichzeitig Herausforderungen für die lokalen Verwaltungen, die Konzepte und Strategien brauchen, die diese grundlegenden Bedürfnisse und Rechte von Menschen, die in ihren Städten Schutz suchen, respektieren. Dieser Workshop bringt Vertreter/innen der lokalen Ebene zusammen, um sich unter anderem von den Städten Livadia (Griechenland) und Utrecht (Niederlande) inspirieren zu lassen und erfolgreiche Umsetzungsstrategien, den Umgang mit Herausforde-rungen, Finanzierungsmodelle usw. zu diskutieren. Der Workshop steht auch Vertreter/innen der Zivilgesellschaft und Akademiker/innen mit Interesse an lokaler Governance und Integration offen.

Civil society as a motor for a solidarity based migration policy:
Ein genauerer Blick auf die Verschiedenen Praxisbeispiele Zeigt: die Zivilgesellschaft ist der Motor, der die Städte zum Handeln bringt. Ob mit Protesten, Unterschriftenlisten, Öffentlichkeitsarbeit oder Infoständen: Menschen tun sich zusammen um gemeinsam für die Verbesserung der Lebenssituationen von geflüchteten Menschen zu streiten. In diesem Workshop Stellen wir Euch unterschiedliche Ansätze von Zusammenarbeit von Stadt und Zivilgesellschaft vor und kommen gemeinsam darüber ins Gespräch, u.a. mit Marijana Hamersak (Zagreb sanctuary city), Malisa Zobel (HVP), Giulia Fellin (HVP), Alina Lyapina (Sea2City) und Liza Pflaum (Seebrücke).
13.30 Uhr Abschlussstatement und Ausblick
Anna Lisa Boni, Generalsekretärin des Städtenetzwerks EUROCITIES
Moderation: Alia Fakhry, Politikberaterin mit Schwerpunkt Migration
---
[English]
Online Event:
Another migration policy is possible!
Launch of the online platform "Moving Cities"
Place: Online
Time: 10/21/2021, 10 a.m.-3 p.m.
We are happy to announce that our online platform will finally launch on 21 October 2021: a mapping that provides in-depth research about 28 progressive solidarity cities and their strategies to welcome migrants and refugees in ten European countries. The website aims to mobilize and inspire municipal employees, local politicians, as well as civil society activists who are looking for ideas and strategies to change their local migration policies.
For the official launch, the participating organizations Rosa Luxemburg Stiftung, Seebrücke, and the Heinrich Böll Stiftung cordially invite you to an online event on October 21st.
In addition to a presentation of the website and individual examples of successful migration policies, a discussion on their political significance is planned. This will be followed by workshops for municipal employees, local politicians, and activists which present and discuss ways to achieve solidarity in municipal politics.
The event will be translated into English, German, and Greek.
More information about the project can be found here: https://www.rosalux.de/en/news/id/45046/
Register here: https://us02web.zoom.us/webinar/register/WN_64YqBYaPQkWvLWdDHLVSHg
URL of the website - available from 21.10.2021: www.moving-cities.eu
Contact
Caroline Hüglin
Project Manager Southern Africa, Rosa-Luxemburg-Stiftung