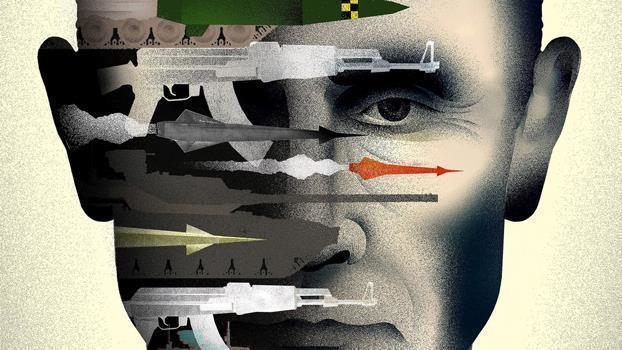 [ English below ]
Die Rosa-Luxemburg-Stiftung präsentiert im April eine Werkschau des in Arizona geborenen amerikanischen Künstlers und Illustrators Brian Stauffer. Seit Mitte der 1990er-Jahre ist Stauffer für seine intelligenten und oftmals satirischen Titelbilder bekannt, die von Zeitschriften wie Rolling Stone, Time Magazine, The Nation, Village Voice, The New Yorker und in Deutschland auch vom Spiegel (zuletzt in Nr. 11/2022) und der Zeit gedruckt wurden. Zuletzt hat er sich insbesondere mit dem Krieg in der Ukraine beschäftigt. Um die Welt ging auch seine Illustration des damaligen US-Präsidenten Donald Trump mit weit aufgerissenem Mund, der eine medizinische Maske über die Augen gespannt trägt. Damit nimmt Stauffer Bezug auf den fragwürdigen Umgang der Trump-Administration mit der Corona-Pandemie, die immer wieder fälschlich behauptete, das Virus sei unter Kontrolle und werde von selbst verschwinden.
Zur Macht seiner Kunst sagt Stauffer: «Ich liebe das Potenzial von Bildern, den Mächtigen die Wahrheit zu sagen. Es ist sehr befriedigend, korrupte und unmenschliche Handlungen oder Maßnahmen in der Politik in einem Bild offenzulegen. Mich reizt es, Machtmissbrauch, Rassismus und Intoleranz zu ergründen.»
Stauffers Arbeiten behandeln häufig brisante soziale und gesellschaftliche Themen. Dies erklärt der Künstler auch mit Erfahrungen, die er bereits in jungen Jahren machte: «Meine Eltern nahmen meine Schwester und mich schon als kleine Kinder zu den verschiedenen ehrenamtlichen Projekten mit, in denen sie tätig waren. Dadurch habe ich wohl eine Wertschätzung für Menschen entwickelt, die den Blick nicht vom Leid anderer abwenden.»
Stauffers Bilder sind Teil der ständigen Sammlungen von The Wolfsonian, Museum of the Society of Illustrators in New York, The American Institute of Graphics Artists, Newseum of Washington D.C. und The Art Directors Club of New York.
Stauffer sieht sich von Künstlern wie John Heartfield und Alexander Calder beeinflusst. Trotz vielfältiger Auszeichnungen für sein Werk legt der Künstler eine große Bescheidenheit an den Tag.
«Bedeutsamkeit nachzujagen ist eine wirklich toxische, beängstigende Sache. Das bedeutet nicht, dass wir nicht wollen, dass unsere Arbeit wichtig ist, dass sie geschätzt und gefeiert wird. Aber das ist letztlich alles sehr vergänglich.»
Die Rosa-Luxemburg-Stiftung zeigt Stauffers Arbeiten erstmals in Deutschland. Die Ausstellung wird 48 Exponate präsentieren. Eröffnet wird die Werkschau am 12. April im Gebäude der Rosa-Luxemburg-Stiftung in Berlin, Straße der Pariser Kommune 8A. Zu sehen ist sie dort bis zum 26. August.
BRIAN STAUFFER ist in Arizona geboren und aufgewachsen und machte 1989 seinen Abschluss (Bachelor of Fine Arts) an der University of Arizona mit dem Schwerpunkt Grafikdesign. Derzeit lebt er mit seiner Frau und seinen beiden Söhnen in Marin County, Kalifornien.
Ausstellungseröffnung: 12.4.2022, 18:00 Uhr
Mit Brian Stauffer (Künstler und Illustrator aus Kalifornien, USA),
Daniela Trochowski (Geschäftsführerin der Rosa-Luxemburg-Stiftung)
Kurator: Gert Gampe | Musik: Frank Paul Schubert (Saxofon)
[ ENGLISH ]
Since the mid-1990s, the artist and illustrator born in 1966 in Arizona (USA) has been creating intelligent and often satirical covers for magazines such as Rolling Stone, Time Magazine, The Nation, The Village Voice, The New Yorker and, most recently, Der Spiegel. His illustrations have appeared in more than 200 newspapers and publications worldwide.
Stauffer's work often addresses controversial or highly sensitive social and societal issues: child abuse, the dysfunctional prison system in the US, police violence, the pharmaceutical industry, xenophobia, terrorism, and – again and again – war. He transforms these emotionally and politically charged subjects into powerful, conceptually minimalist images. Through an unique combination of hand-drawn sketches, painted elements and computer-generated techniques, he manages to bridge both the traditional and digital realm.
Stauffer's illustration for a cover of The New Yorker (March 2020), showing Donald Trump with a respirator mask over his eyes, won the American Society of Magazine Editors award for "Most Controversial Magazine Cover". The same Society named Brian's 2021 work "White Supremacy in the Police" for Rolling Stone the "Best Magazine Illustration" of the year. Among others, his work has also received awards from the NYC Society of Illustrators, the New York Art Directors Club, Graphis Magazine, the Promax and Broadcast Design Association, the Society of Publication Designers, the American Institute of Graphic Arts, the Society of Newspaper Design, and the Association of Alternative News Weeklies. His images are in the permanent collections of The Wolfsonian, the Museum of the Society of Illustrators in New York, The American Institute of Graphics Artists, Newseum of Washington D.C. and The Art Directors Club of New York.
BRIAN STAUFFER was born and raised in Arizona and graduated from the University of Arizona in 1989 with a Bachelor of Fine Arts, emphasizing graphic design. He lives with his wife and two sons in Marin County, California.
Exhibition opening: 12 April 2022, 6:00 p.m.
With Brian Stauffer (artist and illustrator from California, USA),
Daniela Trochowski (Executive Director of the Rosa Luxemburg Foundation)
Curator: Gert Gampe | Music: F rank Paul Schubert (saxophone)