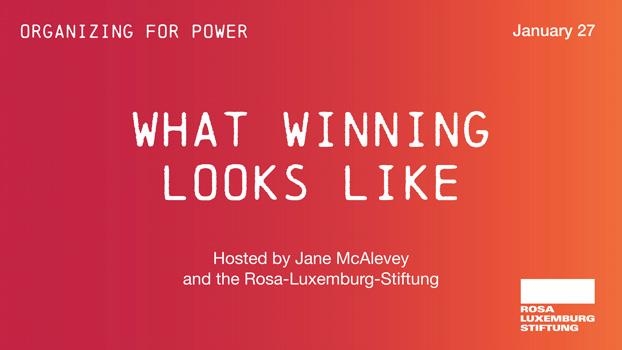 Eine Veranstaltung von Jane McAlevey und der Rosa-Luxemburg-Stiftung zusammen mit Krankenhausbeschäftigten aus Deutschland.

Am 27. Januar starten wir ein neues O4P-Format mit dem Titel «What Winning Looks Like», in dem wir in unregelmäßigen Abständen Schlaglichter auf erfolgreiche Kämpfe werfen und uns mit den Strategien und Methoden, die zum Sieg führten, beschäftigen wollen. In der ersten Folge geht es um die Berliner Krankenhausbewegung, bei der die Beschäftigten mit ihrer Gewerkschaft ver.di einen großen Erfolg errungen haben.
In diesem neuen Organizing for Power-Format wollen wir uns in unregelmäßigen Abständen erfolgreiche Organisierungskampagnen und Tarifauseinandersetzungen ansehen und im Gespräch mit beteiligten Beschäftigten und Organizer:innen analysieren, was diese Kämpfe zum Erfolg geführt hat.

Starten wollen wir mit den Beschäftigten der Berliner Krankenhäuser Charité und Vivantes und den Vivantes-Töchtern, die kürzlich einen großen Sieg in der Entlastungs-Tarifkampagne mit ihrer Gewerkschaft ver.di errungen haben.

Was hat diesen Erfolg so richtungsweisend gemacht, und wie wurde er erreicht? Schaltet Euch am 27. Januar um 18 Uhr ein, um es herauszufinden!
Es wird eine Übersetzung ins Deutsche geben. Dafür meldet euch hier an. https://bit.ly/O4P-WWLL. Die Veranstaltung wird auch auf Youtube und Facebook gezeigt, dort nur auf Englisch.
---
What Winning Looks Like
Staring victory in the face, one campaign at a time.
Hosted by Jane McAlevey and Rosa-Luxemburg-Stiftung.
Episode 1: Featuring German hospital workers.
In ENG/DEU with interpretation to ARB/ESP/FRA/HIN/POR/RUS.
This 27th of January we launch What Winning Looks Like, a new Organizing for Power series that focuses on strategic choices in campaigns and the methods that lead to victory. In conversation with the workers and organizers who led them, we get to the heart of what makes a successful organizing drive run.
Our first episode features German hospital workers fresh off a major campaign victory led by their union ver.di. What made their victory standard setting, and how did they pull it off in the midst of a pandemic? Tune in to find out.
Let's stare victory in the face together this 27th of January at 9:30pm New Delhi / 7pm Baghdad / 6pm Berlin / 5pm Accra / 2pm Rio de Janeiro / 12pm New York / 11am Mexico City / 9am Los Angeles.
This event will take place on Zoom with interpretation to Arabic, French, German, Hindi, Portuguese, Russian and Spanish. It can also be viewed (in English only) on Facebook Live and YouTube.

Contact
Fanni Stolz
Rosa-Luxemburg-Stiftung