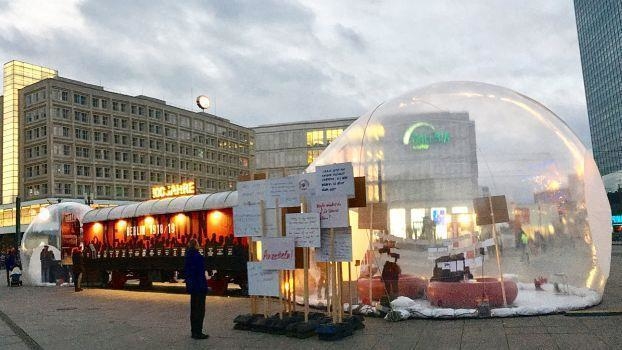 Rosa Luxemburg gedenken heißt, sich mit ihrem Leben und Werk zu beschäftigen. Am 15. Januar 2019 jährt sich ihre brutale Ermordung zum 100. Mal. Aus diesem Anlass trifft sich die rollende Rosa-Luxemburg-Bibliothek vom «Club Real» mit der Künstler*innengruppe «Tools for Action» am 15. Januar ab 17 Uhr am Wittenbergplatz zu einer gemeinsamen Lese-Performanz. Während die von der Rosa-Luxemburg-Stiftung ausgestattete Bibliothek an diesem Tag durch die Straßen rollt, wird ohne Unterbrechung das Werk Rosa Luxemburgs gelesen – je nach Situation laut vorgetragen oder einfach still rezipiert.
Um 17:30 Uhr liest Gregor Gysi, Präsident der Europäischen Linken und Bundestagsabgeordneter, am Breitscheidplatz im Historischen Möbelwagen der Kulturprojekte Berlin GmbH aus den Briefen von Rosa Luxemburg.
Im Anschluss startet ein gemeinsamer Umzug zu dem Ort am Landwehrkanal, an dem Rosa Luxemburg ermordet wurde. Dort gibt es eine kurze Kundgebung in deutscher und polnischer Sprache, die vom Ensemble für Neue Musik begleitet wird. Mit dieser Performance wird der letzte Weg Rosa Luxemburgs erzählt.
Die Veranstaltung ist Teil des Themenwinters «100 Jahre Revolution Berlin 1918/19».
Reading Rosa

With Gregor Gysi

Remembering Rosa Luxemburg means studying her life and work. 15 January 2019 marks the 100th anniversary of her brutal murder. To mark the occasion, the rolling Rosa-Luxemburg-Libraryorganized by "Club Real" will meet with the artists' group "Tools for Action" on 15 January at 17:00 on Wittenbergplatz for a shared reading and performance. While the library equipped by the Rosa-Luxemburg-Stiftung rolls through the streets on this day, Rosa Luxemburg's work will be read without interruption – either loudly or softly, depending on the situation.

At 17:30 the President of the European Left and Member of Parliament Gregor Gysi will read from the letters of Rosa Luxemburg in Kulturprojekte Berlin GmbH's PNEU REVOLUTION on Breitscheidplatz.

Afterwards, we will march together to the spot at the Landwehr Canal where Rosa Luxemburg was murdered. Here we will hold a short gathering in German and Polish, accompanied by the Ensemble für neue Musik. The performance recounts Rosa Luxemburg's last journey. The event is part of the thematic series "100 Jahre Revolution Berlin 1918/19".