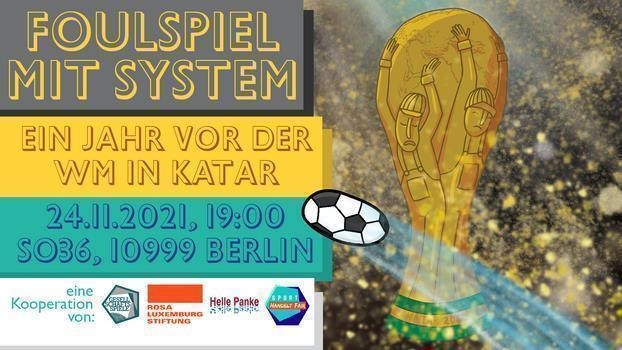 UPDATE: Aufgrund der aktuellen Infektionslage findet die Veranstaltung ohne Präsenzpublikum statt. Teilnehmende können sich über den Livestream an der Veranstaltung beteiligen und Fragen über den Chat stellen.
Die WM in Katar ist so umstritten wie es lange keine große Sportveranstaltung mehr war und hat vor allem aufgrund der lebensgefährlichen Arbeitsbedingungen auf den Baustellen immer wieder negative Schlagzeilen gemacht. Gewerkschaften und Menschenrechtsorganisationen setzen sich seit Jahren für die migrantischen Arbeiter*innen auf Katars Baustellen und in anderen Sektoren ein. Gleichzeitig stellen sich Fußballfans weltweit die Frage, wie sie ihre Macht als Zuschauer*innen nutzen können, um Ausbeutung und Kommerzialisierung in der Sportindustrie etwas entgegenzusetzen.
Wir laden Sie/euch dazu ein mehr über die Situation in Katar zu erfahren und mit uns Möglichkeiten der Solidarisierung mit den Arbeiter*innen sowie soziale und ökologische Vergabekritierien für Weltmeisterschaften zu diskutieren.
Wir diskutieren mit:
Ronny Blaschke (Sportjournalist)
Smritee Lama (Gewerkschafterin aus Nepal)
Susanne Franke (Schalker Fan-Initiative/ Netzwerk Boycott Qatar 2022)
Dietmar Schäfers (IG BAU)
Katja Müller-Fahlbusch (Amnesty International Deutschland)
Jonas Burgheim (Zentrum für Menschenrechte und Sport)
Sebastian Sons (Centre for Applied Research in Partnership with the Orient)

Die Veranstaltung wird ausschließlich als Livestream übertragen.
Eine Kooperation von Gesellschaftsspiele e.V., Helle Panke e.V., Rosa-Luxemburg-Stiftung und Sport handelt fair.
Contact
Nadja Dorschner
Project Manager for Southeast Asia (Mainland), South Asia, Rosa-Luxemburg-Stiftung