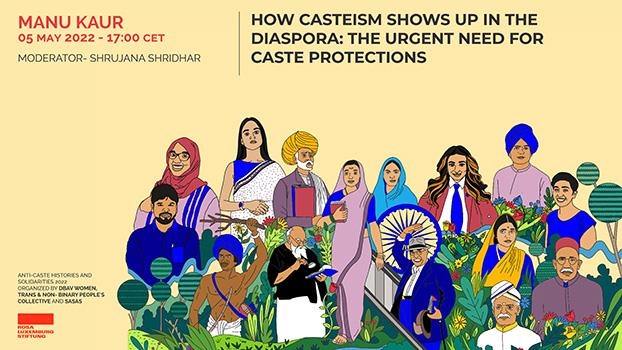 Dalit, Bahujan, Adivasi, Vimukta, and other anti-caste communities in South Asia, have long-standing histories of fighting against caste oppression. In their efforts, these diverse communities have envisioned democratic futures, futures free of caste, be it in the form of the utopia of Begumpura (city without sorrows) or by converting into other egalitarian faiths or imagining collective identities. For long, these communities have fostered solidarities that have been in the making, at times contested, other times fragile, and yet other times strong and emancipatory. Through oral histories, these knowledge communities have passed on equally emancipatory ideologies. With each passing generation, they have reimagined and redefined themselves. To commemorate this rich past and to continue the contemporary dialectics, 'Dalit Bahujan Adivasi Vimukta Women, Trans, Non-binary People's Collective' and 'South Asian Scholars and Activists Solidarity' bring forth this 'Anti-caste Histories and Solidarities' lecture series in collaboration with Rosa-Luxemburg-Stiftung.
In this series, some contemporary intellectuals, writers, artists, and activists from diverse anti-caste locations will reflect on pertinent questions: how do historically oppressed diverse communities with emancipatory movement histories investigate, imagine, and build anti-caste solidarities? Why is engagement with these histories and solidarities critical? How caste still dominates and shapes the lived realities of Dalits and many other marginalized groups in India? How do the state and its system as it exists fails and yet remain the only source for the oppressed castes and minorities to seek justice? These are some of the challenging questions scholars and activists of anti-caste scholarship and movements have engaged with for several decades. Yet many questions remain unanswered, get distorted, or remain sidelined due to their complexities. This lecture series attempts to engage with these complex questions in the spirit of continuing the knowledge exchange.

Manu Kaur (they/them)
How casteism shows up in the diaspora: the urgent need for caste protections

05/05/2022 at 17.00 CET
Moderated by Shrujana Shridhar
Registration link: https://us06web.zoom.us/webinar/register/WN_eMA__6o_Rlyv6VIuVQZ6DQ
The discussion will be held as an online seminar in English. Preregistration is necessary

How does Casteism function in the diaspora? What does being anti-caste entail? This lecture will discuss & unpack how casteism thrives in the diaspora & why adding caste as a protected category is a crucial first step in protecting Diasporic Dalits.
Manu Kaur is a Dalit, queer, nonbinary community organiser & educator committed to dismantling casteism in the diaspora. They have been supporting national efforts to make caste a protected category in institutional anti-discrimination policies in the USA. Manu is deeply invested in Dalit futurisms & healingfrom cycles of trauma & harm. They are called to do this work by their ancestors. Their work is rooted in advocacy & love for caste-oppressed communities.

Shrujana N Shridhar is an illustrator and artist based in Mumbai. She works on children's books and editorial illustrations. Her work centres on anti-caste expression from an Ambedkarite and feminist perspective. Shrujana runs the Dalit Panther Archive, which focuses on digitising and translating Little Magazines and literature published by the members of the Dalit Panther movement.
Contact
Dr. Leonie Schiffauer
Senior Advisor for East, South, and Central Asia, Rosa-Luxemburg-Stiftung