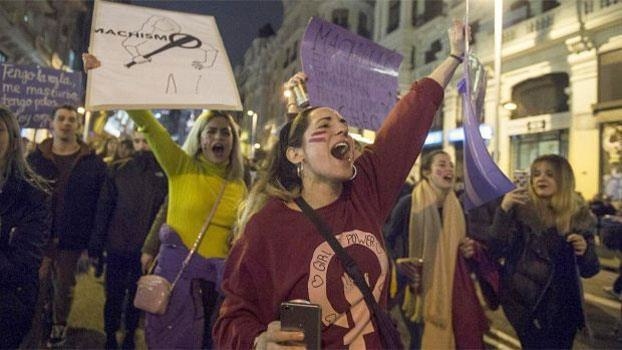 Mit Beginn der Finanzkrise im Jahr 2007 verschrieben sich viele Länder einer absoluten Austeritätspolitik.
In Südeuropa und Irland waren es hauptsächlich die EU und der internationale Währungsfonds, die das Sparen diktierten. In Osteuropa war es der Erfolgsdruck der neuen Mitgliedsländer gegenüber der EU und eine gewünschte schnelle Integration in den europäischen Wirtschaftsmarkt, die die Regierungen Sparhaushalte aushandeln ließ. Wie auch immer — das Mantra des Sparens zu Gunsten eines ausgeglichenen Haushaltes, besserer Wettbewerbsfähigkeit und der Schuldenvermeidung hat verheerende Auswirkungen auf die Arbeits- und Lebensbedingungen von Frauen sowie auch generell auf die Geschlechterbeziehungen. In den von der Rosa-Luxemburg-Stiftung in Auftrag gegebenen Länderstudien zu den Auswirkungen der Austeritätspolitik auf Frauen wird genau dies untersucht.
Unter dem Titel «Austerity, Gender Inequality and Feminism after the Crisis» haben die Autorinnen nicht nur Daten zur Beschäftigung und zum Einkommen von Frauen ausgewertet, sondern auch Sparmaßnahmen, die direkt die Gleichstellung betrafen, unter die Lupe genommen, sowie Gesetzesänderungen und Neuregelungen dahingehend untersucht.
Wie wirkt sich Sparpolitik auf Geschlechterrollen in der Familie aus? Wer übernimmt Erziehung und Pflege von jung und alt, wenn der Staat keine Unterstützung mehr bietet? Was heißt es, wenn Gleichstellungsbeauftragte gleichzeitig mit dazugehörigen Förderprogrammen weggespart werden? Wo bleiben Frauen, wenn es keine Zufluchtsstätten für Opfer häuslicher Gewalt gibt? Wer bringt die ungewollten Kinder durchs Leben, wenn Schwangerschaftsabbrüche nicht mehr erlaubt sind?
Die Studien zeigen eine Topografie dessen, welche Auswirkungen das Spardiktat in Europa auf Geschlechterverhältnisse hat und formulieren Forderungen einer linken feministischen Politik, die auf sozialer Gerechtigkeit und einer Gleichstellung der Geschlechter basiert.
Begrüßung
Johanna Bussemer, Leiterin des Referates Europa im Zentrum für Internationalen Dialog und Zusammenarbeit der Rosa-Luxemburg-Stiftung
Präsentation und Diskussion
«Should women have more rights?» Traditional Values and Austerity in Russia.
Marianna Muravyeva – Author and professor of law at the National Research University Higher School of Economics, Moscow and co-chair of the Women and Gender Network of the European Sciences History Conference
«Irish Feminist Approaches against Austerity Regimes»
Mary Murphy – Author and political sociologist in Maynooth University. (via Skype)
Dr. Pauline Cullen – Author and lecturer in Sociology and Politics in the Department of Sociology, Maynooth University, National University of Ireland. (via Skype)
«Death by a Thousand Cuts» Impact of Austerity Measures on Women in Croatia.
Marija Ćaćić – Author and translator. Currently member of the Program Committee of Women's Union School organized by BRID (OWID), she was also editor-in-chief of the magazine «Zarez» and «Slobodni Filozofski». She has translated, written on and edited special issues on reproductive rights, sex work and feminist theory
«Gendered Aspects of the Austerity Regime in Greece: 2010–2017» Austerity, Gender Inequality and Feminism after the Crisis in Greece.
Ioanna Maitani – Rosa-Luxemburg-Stiftung Griechenland
Kommentar: How do left political parties position themselves with regard to the gendered impacts of austerity? Is there potential for mobilizing support for a feminist political economy ahead of the 2019 EP elections?
Alex Wischnewski – Referentin für feministische Politik Fraktion DIE LINKE. im Bundestag
Moderation: Simone Schmollack (Journalistin)
Die Veranstaltung wird deutsch-englisch simultan übersetzt.
Anmeldung bei: Dorit.Riethmüller@rosalux.org
Contact
Dorit Riethmüller
Projektmanagerin Südosteuropa, Rosa-Luxemburg-Stiftung