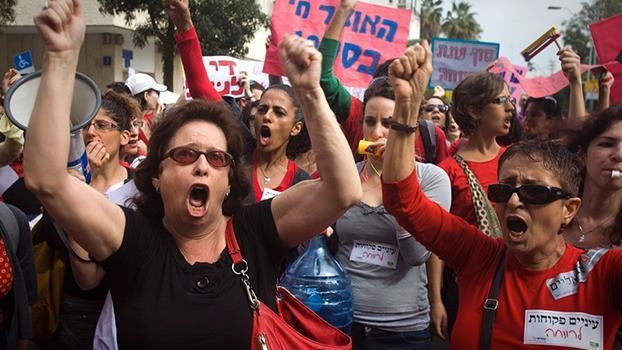 *english below*
Ein Gespräch mit der israelischen Gewerkschaftsaktivistin Maya Peretz-Ruiz
Die im Jahr 2007 gegründete israelische Basisgewerkschaft Koach La-Ovdim ("Macht den Arbeitern") setzt sich mit demokratischen, anti-rassistischen und feministischen Ansätzen für unorganisierte ArbeiterInnen ein und erzielt dabei beachtliche Erfolge.
Seit 10 Jahren arbeitet eine neue Gewerkschaft daran, die von der nationalen Gewerkschaft "Histadrut" ignorierten prekären Arbeiter_innen zu organisieren. Dabei hat sie das bis dato unangreifbar scheinende Monopol der "Histadrut" herausgefordert.
Mit mehr als 16,000 Mitglieder hat Koach La-Ovdim nicht nur hohe ideelle Ansprüche, sondern konnte auch reale Erfolge aufweisen: So erzielte die gewerkschaftliche Organisation für die Beschäftigten eines großen Cafés in Tel Aviv den ersten Kollektivvertrag in dieser Branche. Auch die Organisierung von ArbeiterInnen in Reinigungs- und Sicherheitsfirmen führte zu bedeutsamen Verbesserungen der Arbeitsbedingungen. Im Jahr 2011 begleitete Koach La-Ovdim sogar den längsten Streik in der Geschichte Israels, und zwar in der Fabrik Haifa Chemicals, der fast sechs Monate dauerte.
Dabei erhält die Gewerkschaft Unterstützung von zahlreichen sozial engagierten AktivistInnen, die der Überzeugung sind, dass eine auf Klassenfragen ausgerichtete Politik und eine gewerkschaftliche Organisierung die israelische Linke stärken und ihren gesellschaftlichen Einfluss vergrößern kann.
Im Gespräch wollen wir neben der Vorstellung der Gewerkschaft auch der Frage nachgehen, wie in einem Land wie Israel trotz der klaren Segmentierung des Arbeitsmarktes nach Geschlecht und ethnischer Zugehörigkeit eine erfolgreiche Gewerkschaftspolitik aussehen kann und welche Herausforderungen die permanente Besatzungssituation sowie die herrschende Diskriminierungspolitik für eine demokratische und anti-rassistische Gewerkschaft darstellen.
Maya Peretz-Ruiz ist Organisatorin für den Bereich öffentlicher Verkehr in der Organisation Koach La-Ovdim und studiert Soziologie an der Ben-Gurion-Universität in Beer Sheva.
Auch auf facebook: https://www.facebook.com/events/1838779113110952
---
Koach La-Ovdim – A Union From The Ground Up: a talk with the Israeli organizer Maya Peretz Ruiz
Established in 2007, the Israeli grassroots workers' union Koach La-Ovdim (Power to the Workers) represents unorganized workers with its democratic, anti-racist and feminist approach, obtaining remarkable achievements.
For 10 years, a new labor union in Israel has been working to organize precarious workers ignored by the national trade union Histadrut while challenging its seemingly insuperable monopoly.
With more than 16,000 members, Koach La-Ovdim has not just lofty ideals but also concrete successes: the unionizing of employees of a large café in Tel Aviv achieved the first collective agreement in this sector. The organization of workers in cleaning and security companies also led to significant improvements in working conditions. In 2011, Koach La-Ovdim even set the record for the longest strike in Israel's history, at Haifa Chemicals, which lasted almost six months.
The union is supported by numerous committed activists who are convinced that a class-oriented policy and a trade union organization can strengthen the Israeli left and increase its social influence.
During our talk, in addition to the presentation of the union's activities, we also want to address the possibilities of successful organizing in a country like Israel, in which a clear segmentation of the labor market along lines of gender and ethnicity exist. What challenges do the permanent condition of occupation, as well as the prevalent discriminatory policies, actually mean for the day-to-day work of a democratic and anti-racist trade union?
Maya Peretz-Ruiz is an organizer in the sector of public transportation in the union Koach La-Ovdim (Power to the Workers) and studies sociology in the Ben Gurion Univeristy.
Also on facebook: https://www.facebook.com/events/1838779113110952
Contact
Charlotte Tinawi
Senior Advisor for Syria, Lebanon, Iraq, and Turkey, Rosa-Luxemburg-Stiftung