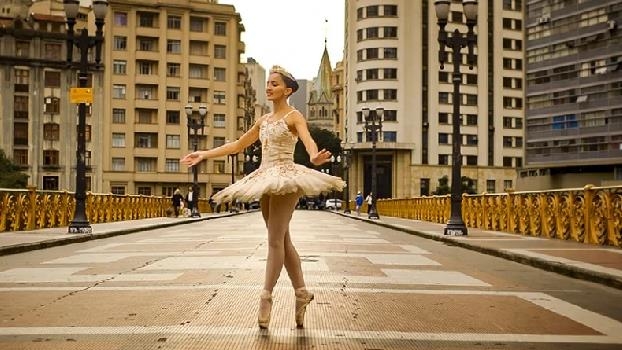 Neue Staffel der Film- und Gesprächsreihe "Handicap - Leben mit Behinderung"
in Kooperation mit dem Filmtheater Union Fürstenwalde/Spree
---
"Looking at the Stars" (Olhando para as Estrelas)
Blinde Ballerinen machen das Unmögliche möglich
Regie: Alexandre Peralta, Brasilien 2016, 89 min, FSK 0, Darsteller: Geyza Pereira, Thalia Macedo, Fernanda C. Bianchini Saad, Cesar Albuquerque, Sandra Macedo
---
»Eine Ballerina muss immer zu den Sternen aufschauen, auch wenn sie diese nicht sehen kann.« Fernanda Bianchini
Mitten im brasilianischen São Paulo liegt die Ballettschule "Associação Fernanda Bianchini". Die jungen Frauen und Männer, die hier den klassischen Tanz lernen, sind genauso entschlossen, diszipliniert und voller Hoffnung, wie alle jungen Tänzer. Und sie sind blind. Die weltweit erste und einzige Ballettschule für Blinde baut statt auf Blut, Schweiß und Tränen, auf Berührungen, Gehörsinn und vor allem: Mut. Für Fernanda Bianchinis Tänzer ist die Schule ein sicherer Hafen und die Bühne ein Ort, an dem sie frei und unabhängig sein können. Geyza erblindete mit neun Jahren und ist heute Primaballerina und Ballettlehrerin an Fernandas Schule. Wenn sie tanzt, sieht ihr niemand an, wie unsicher sie sich oft in ihrem Alltag fühlt. Nach ihrem lang ersehnten Hochzeitstag hofft sie, ihr Privatleben mit ihrer Ballettkarriere vereinen zu können. Und die 14-jährige Thalia, die in der Schule oft gemobbt und gemieden wird, ertanzt sich ihre Unabhängigkeit – und hat dabei endlich echte Freunde gefunden.
Die weltweit einzige Ballettschule für blinde Menschen macht das Unmögliche möglich. Hier, im brasilianischen São Paulo, unterrichtet Fernanda Bianchini klassischen Tanz durch bloße Berührung. Dem unvergleichbaren Inklusionsprojekt für Kinder und Erwachsene setzt Alexandre Peralta ein bewegendes filmisches Denkmal. Sein bezaubernder Dokumentarfilm "Looking at the Stars" ermutigt, nach den Sternen zu greifen, egal welche gesellschaftlichen Widerstände es gibt.
---
Zu den pandemiebedingten Auflagen im Filmtheater Union:
Contact
Rosa-Luxemburg-Stiftung Brandenburg