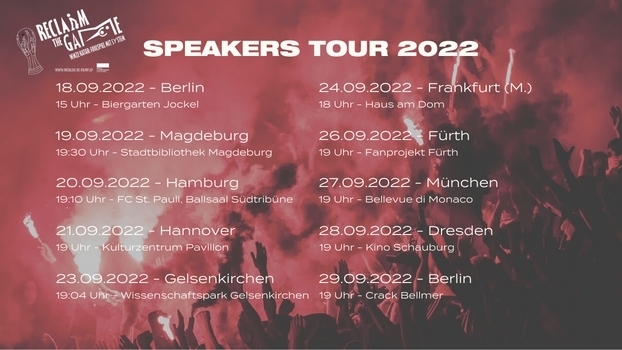 Speakers Tour zu den Lebensbedingungen migrantischer Arbeiter:innen in Katar vom 18. bis 29. September
mit Veranstaltungen in Berlin, Magdeburg, Hamburg, Hannover, Gelsenkirchen, Frankfurt, Fürth, München, Dresden und Berlin
gemeinsame Veranstaltung der Rosa-Luxemburg-Stiftung mit Gesellschaftsspiele e.V., den RLS Regionalbüros bundesweit, Fanprojekt Magdeburg, Stadtbibliothek Magdeburg, Kulturzentrum Pavillon Hannover, Fanladen St. Pauli, Schalker Fan-Initiative, Schalker Fanprojekt, Anno 1904 e.V., BoycottQatar2022, KOS – Koordinationsstelle Fanprojekte, !Nie Wieder, Unsere Kurve, Fanprojekt Fürth, Bayernfans der Südkurve, Bellevue die Monaco, Bayerischer Flüchtlingsrat, Fanprojekt Dresden e.V. – Lernzentrum "Denk-Anstoß"und andere
deutsch-englisch simultanübersetzt
Moderation: Ronny Blaschke (Journalist und Autor)

Teil 1: Menschenrechte in Katar am Bau von WM-Stadien
Vier Gäste aus Nepal und Kenia berichten von ihren Erfahrungen auf den Baustellen für die Fußballweltmeisterschaft 2022 und von ihren Kämpfen, um die Arbeitsbedingungen in Katar für migrantische Arbeiter:innen zu verbessern. Wie wirksam sind die Arbeitsrechtsreformen, die Katar angestoßen hat? Welche Probleme bleiben für gewerkschaftliche und informelle Organisierung von Arbeiter:innen bestehen? Welche Forderungen wollen wir an FIFA und DFB für künftige Standortvergaben von Fußballweltmeisterschaften richten? Wie können wir solidarisch mit den Arbeiter:innen in Katar sein? Diese Fragen diskutieren wir mit unseren Gästen aus Gewerkschaften, Politik und migrantischer Selbstorganisation.

Die Gäste sind:
Binda Pandey, die als stellvertretendes Mitglied des Verwaltungsrates der Internationalen Arbeitsorganisation (ILO) für den nepalesischen Gewerkschaftsdachverband GEFONT – General Federation of Nepalese Trade Unions an den Verhandlungen mit der katarischen Regierung beteiligt war, heute Abgeordnete im nepalesischen Parlament für die Communist Party of Nepal (Unified Marxists-Leninists)
Krishna Shrestha, Vertreter des nepalesischen Migrant Workers Network in Katar
Jeevan Taramu, Arbeiter auf Baustellen in Katar
Malcolm Bidali, ehemaliger migrantischer Arbeiter in Katar und Mitgründer von Migrand Defenders, Kenia
Muss leider entfallen:

Teil 2: Der steinige Weg zur Anerkennung des Frauenfußballs

▸Rahmenprogramm:

Am 29.09.2022 findet ein Workshop mit einer 9. Klasse aus Dresden zum Thema Menschenrechte in Bezug auf die WM 20022 in Katar im Lernzentrum Denk-Anstoß statt. In dem dreistündigen Workshop wollen wir uns mit zwei Fragen genauer beschäftigen: Welche Bedeutung haben die Menschenrechte auf unseren Alltag und welche Pflichten bringen sie mit sich? Wie steht es um die Persönlichkeitsrechte der Menschen in Katar? Die Schüler*innen werden auch die Möglichkeit haben, sich mit den Gästen aus Nepal und Kenia in einer entspannten Atmosphäre auszutauschen. Der Workshop wird mit einer Stadionführung beendet.
Materialien und weitere Informationen dazu unter www.rosalux.de/fairplay


Diese Maßnahme wird mitfinanziert durch Steuermittel auf der Grundlage des vom Sächsischen Landtag beschlossenen Haushaltes.