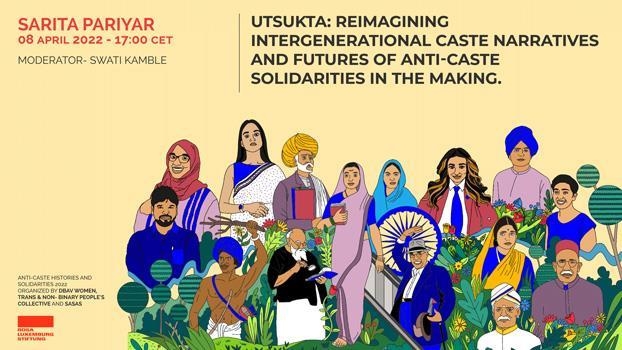 Dalit, Bahujan, Adivasi, Vimukta, and other anti-caste communities in South Asia, have long-standing histories of fighting against caste oppression. In their efforts, these diverse communities have envisioned democratic futures, futures free of caste, be it in the form of the utopia of Begumpura (city without sorrows) or by converting into other egalitarian faiths or imagining collective identities. For long, these communities have fostered solidarities that have been in the making, at times contested, other times fragile, and yet other times strong and emancipatory. Through oral histories, these knowledge communities have passed on equally emancipatory ideologies. With each passing generation, they have reimagined and redefined themselves. To commemorate this rich past and to continue the contemporary dialectics, 'Dalit Bahujan Adivasi Vimukta Women, Trans, Non-binary People's Collective' and 'South Asian Scholars and Activists Solidarity' bring forth this 'Anti-caste Histories and Solidarities' lecture series in collaboration with Rosa-Luxemburg-Stiftung.
In this series, some contemporary intellectuals, writers, artists, and activists from diverse anti-caste locations will reflect on pertinent questions: how do historically oppressed diverse communities with emancipatory movement histories investigate, imagine, and build anti-caste solidarities? Why is engagement with these histories and solidarities critical? How caste still dominates and shapes the lived realities of Dalits and many other marginalized groups in India? How do the state and its system as it exists fails and yet remain the only source for the oppressed castes and minorities to seek justice? These are some of the challenging questions scholars and activists of anti-caste scholarship and movements have engaged with for several decades. Yet many questions remain unanswered, get distorted, or remain sidelined due to their complexities. This lecture series attempts to engage with these complex questions in the spirit of continuing the knowledge exchange.
Sarita Pariyar
Utsukta: Reimagining Intergenerational Caste Narratives and Futures of anti-caste solidarities in the making

08/04/2022 at 17.00 CET
Moderated by Swati Kamble
Registration link:
https://us06web.zoom.us/webinar/register/WN_ASCMYdhkSdOyjnYVliHY8A
The discussion will be held as an online seminar in English. Preregistration is necessary.
Drawing on Utsukta, her recently published book on caste-questions, Sarita will discuss the significance of rethinking narratives on dignity and intergenerational solidarity. Further through examples from her initiative 'Engendering New Narratives for Just Futures: Nepali Dalit Women and the COVID-19 Pandemic' Sarita will articulate on the challenges Nepali Dalit women have faced during pandemic and the need of an intersectional lens. Lastly, she will reflect on the work she has been engaged in around cross border anti-caste solidarities that are in the making. Sarita believes that even imperfect global anti-caste communities are on the path of solidarities. She hopes that this envisioning of collective anti-caste futures will give strength to the new generations in going forward.
Sarita Pariyar
is a writer and social justice activist. Sarita is also the Principal Investigator of Just Futures Initiative that aims to engender new narratives of Dalit women at Samata Foundation. Sarita is the founding convener of the international Darnal Award for Social Justice. She serves on the Board of Samata Foundation, the Madhesh Foundation, and Accountability Lab.
She writes on politics of caste, gender, sexuality with a particular focus on lived experiences of Dalit women. Her work has been published in newspapers, magazines, and journals. She is author of a children's book "Utsukta" that deals with caste questions from an intergenerational perspective. She delivers public-lectures on caste questions and social justice issues.
She holds a Master's degree in Sociology and a Bachelor's degree in Journalism and English Literature from Tribhuvan University. Currently, she is pursuing legal studies at the Nepal Law School, Kathmandu. In 2020, she was selected as a Fellow of the prestigious Draper Hills Summer Fellows on Democracy, Development and Rule of Law at Stanford University. In 2021, she was selected as the recipient of the Fulbright Fellowship.
Swati Kamble
is a Dalit-Bahujan activist and intersectional feminist. She has completed a doctorate from the University of Geneva. Her research interests involve studying the marginalised communities with an intersectional and reflexive lens and committing to bringing their narratives to the forefront both in academia and policy. These narratives are created collaboratively with the marginalised communities as the active agents and in charge.
As a person from a marginalised community, she finds it of utmost importance that her research practice stems from social justice and recognising the knowledge emerging from the communities. Her research focuses on studying the impact of Dalit women's activism on the policy process in Maharashtra.
Dalit women's engagement in anti-caste feminist history has created valuable knowledge that can be instrumental in making the Indian policy process equitable and intersectional. She is currently developing a project on solidarities and archival of diverse anti-caste communities in India and the digital lives of activists from these anti-caste locations. She is also collaborating with the India and Me collective, a group of scholars and activists in India and the UK, in developing anti-caste, critical pedagogical modules to engage with the South Asian diaspora around the issues of caste, class, gender, religion, and intersectionality.
Contact
Dr. Leonie Schiffauer
Senior Advisor for East, South, and Central Asia, Rosa-Luxemburg-Stiftung