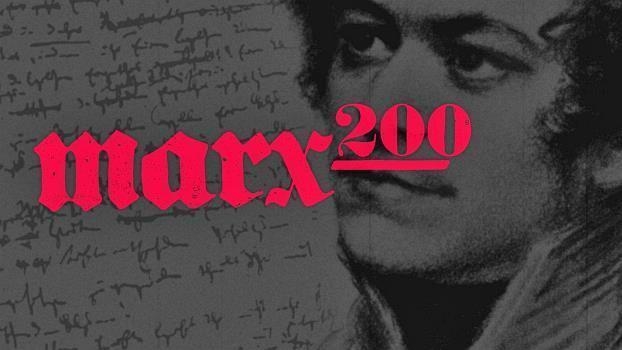 Am 26. August 1849 traf Marx von Paris kommen in London ein. Er war zuletzt im Januar 1848 in London, als er zusammen mit Engels den Auftrag für die Abfassung des "Kommunistischen Manifests" erhielt, die Sitzung fand in der Great Windmill Street statt. Für den Staatenlosen und seine Familie sollte es die zweite Heimat werden. Seinen Arbeitsplatz fand Marx in der Bibliothek des Britischen Museums. Marx zog einige Male um: zu den ersten Übergangsadressen zählte das "German Hotel" in der Leicaster Street 1, die ersten Jahre verbrachte die Familie in der Dean Street 64, ab 1864 in einer besseren Wohngegend im Norden Londons, Maitland Park Road. Marx wurde zum geistigen Kopf der Internationalen Arbeiterassoziation, seine ganze Familie unterstützte 1871 die Kommune-Flüchtlinge in London, ein Treffpunkt der Londoner Arbeiterschaft war die heutige Marx Memorial Library. Ab 1870 nahm auch Engels seinen Wohnsitz in London, in der vornehmen Regents Park Road, so dass die beiden Freunden häufiger die Gelegenheit zum Austausch hatten. Seine Ruhestätte fand Marx auf den Highgate-Friedhof, zusammen bestattet mit seiner Frau (1881) und dem Enkel Harry Longuet (1883) sowie der Haushälterin Helena Demuth (1890).
Reiseleitung: Prof. Dr. Rolf Hecker und Dr. des. Birgit Ziener

Programmpunkte:
Museum of London Docklands, Vortrag und Gespärch mit Dr. Lucia Pradella: Globalization and the critique of political economy – Marx Frühe Schriften überzu Kolonialkritik
Besuch von Dean Street 28, Marx' Wohnstätte von 1851 bis 1856 und German Hotel, Sammelpunkt für die Flüchtlinge der Pariser Kommune 1871 und die Tagungsstätte des Bundes der Kommunisten
British Museum Library, Reading Room, Besuch der Sonderausstellung in den Treasures of the British Library: Karl and Eleonor Marx Exhibition. Karl and Eleanor Marx Treasures Gallery display Gespräch mit der Kuratorin Dr. Diana Siclovan
Treffen und Diskussion mit Dr. Phoebe V. Moore (University of Leicester, Editorial Board Capital and Class): The University as the fabric of the 2o. Century: Struggles and Strikes
Besuch des Grabs – Marx Tomb, Highgate Cemetery und Rundgang von Chalk Farm nach Camden Town: Grafton Terrace 46, Maitland Park Road 41 (Marx Wohnungen); Regents Park Road 122 (Wohnung von Engels), Primerose Hill, entlang des Regent's Canal durch das ehemalige Industrieviertel von Camden Town
Besuch der Marx Memorial Library, Themse-Fahrt und Tate Galery
Die Gespräche finden auf deutsch und englisch statt. Wir werden uns gemeinsam beim Übersetzen helfen, falls es benötigt wird.
Die An- und Abreise erfolgt individuell.
Der Bildungsurlaub ist in Berlin für diese Reise genehmigt.
Die Reise ist eine Kooperationsveranstaltung der Helle Panke und der Rosa Luxemburg Stiftung Hamburg.Wir bemühen uns gerade um die Anerkennung der Reise als Bildungsurlaub in Hamburg.
Achtung: Wir übernachtung in einem 12-Bett-Zimmer und einem 14-Bett-Zimmer. Bitte beachtet, dass sich die Reise an junge Erwachsene richtet.
Kosten: 250 Euro/ 150 Euro ermäßigt
Contact
Dr. des. Birgit Ziener
Helle Panke e.V. – Rosa-Luxemburg-Stiftung Berlin