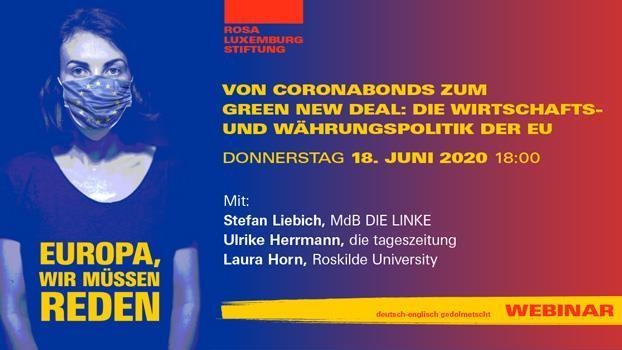 Mit:
Stefan Liebich, MdB, Die Linke
Ulrike Herrmann, die tageszeitung
Laura Horn, Roskilde University
Europa ist ein Hotspot der COVID-19-Pandemie. Nicht nur in Italien, Spanien und Frankreich sind bereits Tausende daran verstorben, Wirtschaft und gesellschaftliches Leben wurden auf dem Kontinent heruntergefahren, Grenzen geschlossen, Gesundheitssysteme in einigen Regionen standen am Rand des Kollaps. Trotz Lockerungen wird uns diese Krise über längere Zeit begleiten. Zugleich offenbart und vertieft Corona die ungelösten Konflikte und Krisen in der Europäischen Union.
Die Auseinandersetzungen zwischen den europäischen Finanzministern und Regierungschefs um EU-Hilfen und -Kredite zeigen, dass die Konfliktlinien der Eurokrise weiterhin bestehen. Zugleich aber wurden bisherige Dogmen, wie die Schuldenbremse und Stabilitätskriterien, in kürzester Zeit ausgesetzt. Im Webinar wollen wir diskutieren, wie die bisherige Krisenpolitik der EU einzuschätzen ist und welche Instrumente, etwa Coronabonds, eine europaweite Vermögenssteuer oder eine Erhöhung des EU-Haushalts, solidarische Antworten auf diese Krise wären. Welche Chancen bieten sich aber auch für grundlegende Veränderungen und Transformationsprojekte wie den Green New Deal?
Die Veranstaltung wird in deutscher und englischer Sprache mit Simultandolmetschung stattfinden.
Bitte registrieren Sie sich zur Teilnahme über folgenden Link. Nach der Registrierung erhalten Sie eine Bestätigungs-Email mit dem Zugang zum Webinar.
https://zoom.us/webinar/register/WN_WpCaWF-cQgOBSC8KnlvE6A
Hinweise zur Datenverarbeitung finden Sie unter: https://www.rosalux.de/dsgvo-zoom
From Coronabonds to the Green New Deal: The EU´s economic and monetary policy
Date: Thursday, 18 June, 18:00-19:30
With:
Stefan Liebich, DIE LINKE, Member of the Federal Parliament
Ulrike Herrmann, die tageszeitung
Laura Horn, Roskilde University
Europe is a hotspot of the COVID-19 pandemic. Not only in Italy, Spain and France thousands have died of it, economy, social and political life on the continent were shut down, borders were closed, health systems in some regions were on the verge of collapse. Despite easing, this crisis will accompany us for a long time to come. At the same time, the pandemic reveals and deepens the unresolved conflicts and crises in the European Union.
The disputes between European finance ministers and heads of government over EU aid packages and loans show that the lines of conflict in the euro crisis still exist. At the same time, however, previous dogmas, such as the "debt brake" and stability criteria, have been suspended in the shortest possible time. In this webinar we will discuss how the EU's crisis policies to date are to be assessed and which instruments, such as coronabonds, a Europe-wide wealth tax or an increase in the EU budget, would be solidarity-based responses to this crisis. Moreover, what opportunities are available for fundamental changes and transformative projects such as the Green New Deal?
The event will be held in German and English with simultaneous interpretation.
Please register to participate via the following link. After registration you will receive a confirmation email with access to the webinar.
https://zoom.us/webinar/register/WN_WpCaWF-cQgOBSC8KnlvE6A
Information on data processing can be found at: https://www.rosalux.de/dsgvo-zoom
Contact
Wenke Christoph
Referentin für West- und Südosteuropa, Rosa-Luxemburg-Stiftung