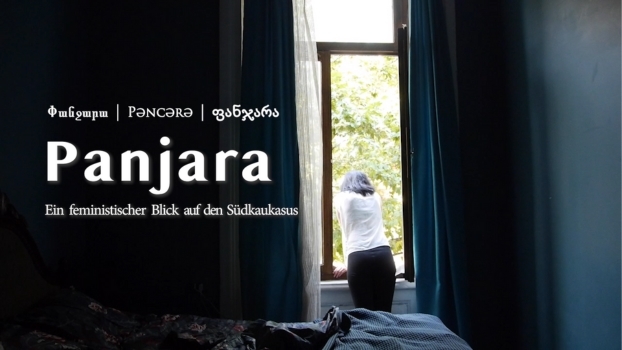 Փանջարա | Pəncərə | ფანჯარა
"Panjara" means "window" in the Armenian, Azerbaijani, and Georgian languages. A window connects the private with the public and symbolizes communication and interaction. It is a metaphor for a joint view of different struggles.Because the issues of each feminist struggles in different nation-states are similar and yet not the same.
The film Panjara was made to highlight this contradiction and to enable a combined thinking of the struggles. The documentary film deals with politically active women* from Armenia, Azerbaijan, and Georgia and focuses on the situation of politically active women* on the ground. They reflect on their role in society, present their political work as well as the challenges in their respective class societies against the backdrop of militarized-nationalist circumstances, and express their desire for change.
Thus, the documentary contributes to the educational debate on queer, informed, and materialist feminism and archives the views of feminist activists in the South Caucasus region. How do political struggles operate in Armenia, Azerbaijan, and Georgia? How do feminists in the South Caucasus struggle in a militarized class society based on patriarchal values? How do war and nationalism in the region affect women*? What kind of repression are they exposed to? And most importantly, what do they wish for?
Afterwards, there will be a film discussion with the director Rovshana Orujova and the protogonists, including Arpi Balyan, Gulnara Mehdiyeva, and Nisa Hajiyeva.
The film evening is part of the Rosa Luxemburg Foundation's conference "Feminist Struggles in South Caucasus".
The film will be shown in the original languages with English subtitles. The subsequent discussion will be held in English.
Contact
Tatjana Kulow
Project Manager for Eastern Europe, Rosa-Luxemburg-Stiftung