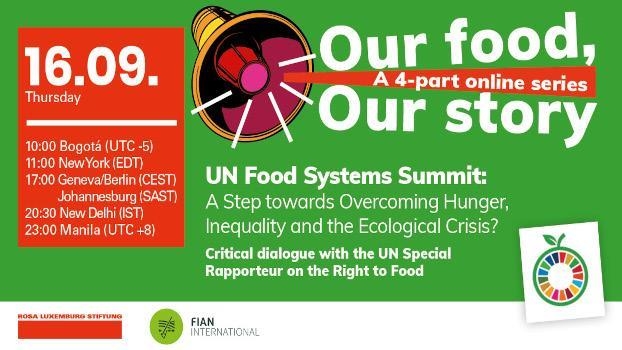 Will the United Nations Food Systems Summit (UNFSS) be a positive step towards the necessary transformation of food systems? Against the backdrop of the urgent need for democratization of the United Nations, will this summit truly include the voices of peasants, farmworkers, rural social movements and civil society in shaping future food policies? The agenda of the UNFSS and the strong drive of corporate interests are of great concern for civil society movements defending the principles of agroecology and food sovereignty, especially in light of the food crises that COVID-19 has added to. How can we ensure that UN policies address the issues that are actually relevant? We want to bridge the gap from the local to the global perspective and make the case that rebalancing food systems is of paramount importance, all the more so as the COVID-19 pandemic has exposed the failures of the corporate food system to address hunger, inequality and the ecological crisis. A side event to the Human Rights Council meeting in Geneva on the outcomes of the UNFSS Pre-Summit held in July and just before the UNFSS begins.
Speakers:
• Michael Fakhri, UN Special Rapporteur on the Right to Food
• Sofia Monsalve, FIAN International, Germany
• Claudia Ortiz Genera, Ríos Vivos, Colombia
• S'bu Zikode, Abahlali baseMjondolo, South Africa

Moderation: Eva Wuchold (Rosa-Luxemburg-Stiftung) and Christophe Golay (Geneva Academy)
Registration required:https://zoom.us/webinar/register/WN_cCvJ5ki6SMaQzHW1Vz7YXw
Languages: English, French, and Spanish (with simultaneous interpretation)
Organized by the Rosa-Luxemburg-Stiftung and FIAN International.

Contact
Jan Urhahn
Program Director Food Sovereignty, Rosa-Luxemburg-Stiftung