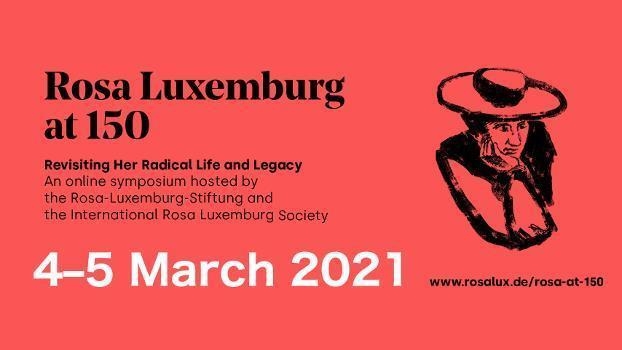 An online symposium hosted by the Rosa-Luxemburg-Stiftung and the International Rosa Luxemburg Society in commemoration of the 150th anniversary of her birth.
Born in southeastern Poland on 5 March 1871, Rosa Luxemburg was a towering figure of the classical socialist movement— a brilliant thinker, sharp-tongued rhetorician, and trailblazing leader of the proletarian cause. The famed socialist historian and journalist Franz Mehring once called her the "best brain after Marx". Her comrade and dear friend Clara Zetkin described her as the "sharp sword, the living flame of revolution". Even Bolshevik leader Vladimir Lenin, with whom she often clashed, was compelled to acknowledge her status as an "eagle" of the Communist movement, at least in retrospect.

She was, by all accounts, a truly unique figure. A Jew, a Polish woman, physically disabled and politically an irreconcilable Marxist—the obstacles to her pursuing her aims in life were legion, yet she rose to become one of the paramount leaders of the largest and strongest socialist movement in the Western world, German Social Democracy. In her short but brilliant career, she locked horns with the Prussian military elite several times and spoke as equals with Karl Kautsky, August Bebel, Victor Adler, and many other leading lights of socialism. As a political agitator she rallied masses of workers against capitalism and imperialist warfare, while also challenging Marxist orthodoxy as both a theorist and instructor at the Social Democratic party school in Berlin.

Yet since being cut down by proto-fascist thugs in January 1919, Luxemburg has been memorialized as a martyr for the revolution and a symbol of the tragic highs and lows of Germany's twentieth century more than anything else. While her name and image remains iconic, her prodigious intellectual output and many contributions to socialist theory, have often been reduced to footnotes.

In commemoration of the 150th anniversary of her birth, the Rosa-Luxemburg-Stiftung together with the International Rosa Luxemburg Society will hold a two-day virtual symposium on Rosa Luxemburg's political and economic thought, highlighting her many contributions to the socialist idea and seeking to apply those insights to our twenty-first century reality, riven by economic crisis and the social pressures wrought by a global pandemic. What can Luxemburg teach us about economic crisis, gender relations, revolutionary patience, and the struggle for a world beyond capitalism? Where have her ideas remained relevant, and where do they require modification?
Join us on 4–5 March 2021 for a series of panels, discussions, and keynote lectures on the life and legacy of this incredible woman, for whom "the most revolutionary thing one can do is always to proclaim loudly what is happening".
Programme
4 March
*All times Central European Time (CET)/UCT+1
11:00 Opening remarks from Johanna Bussemer (RLS) and Ottokar Luban (IRLG)
11:15 Keynote presentation by Michael Löwy, "Either/Or: Rosa Luxemburg's Radical Commitment to Socialist Internationalism"
13.00 Rosa Luxemburg's Reception on the Asian Continent
Chair: Sobhanlal Datta Gupta
Xiong Min, "What can Rosa Luxemburg tell us about being an intellectual today?"
Ravi Kumar, "Rosa Luxemburg and the pedagogy of revolution: reflections from the Indian Left"
Sibok Chang, "Rosa Luxemburg's reception and impact in Korea"
Michael R. Kraetke, "Rosa Luxemburg's heterodox view on the Global South"
15:00 The Enduring Question: Feminism and Rosa Luxemburg
Chair: Sandra Rein
Ankica Čakardić, "What is Luxemburgian feminism?"
Frigga Haug, "How to use Luxemburg's thoughts for feminist politics?"
17:00 Rosa Luxemburg in Latin America
Chair: Pablo Slavin
Rosa Rosa Gomes, "An analysis of the Brazilian Left from Luxemburg's point of view"
Marina Kabat, "Rosa Luxemburg, the mass strike debate, and its implications for understanding contemporary labor unrest and political dynamics in Latin America"
Juliana Tumini, "The role of the right to the city as an instrument of revolution in Latin America: A view from Rosa Luxemburg's perspective"
Tomás Várnagy, "Rosa Luxemburg, a Central European revolutionary"
19:00 Book Launch: Creolizing Rosa Luxemburg
Chair: Albert Scharenberg
Drucilla Cornell and Jane Gordon "'I Have a Thousand More Things I Want to Say to You': An Introduction to Creolizing Rosa Luxemburg"
Paget Henry, "Claudia Jones, Political Economy, and the Creolizing of Rosa Luxemburg"
Robin D.G. Kelley, "Walter Rodney's Russian Revolution and the Curious Case of Rosa Luxemburg"
Siddhant Issar and John McMahon "Rosa Luxemburg and the Primitive Accumulation of Whiteness"
5 March
11.15 Opening remarks for day 2 from Loren Balhorn (RLS)
11:30 Rosa Luxemburg and the Challenge of Political Strategy (tbc)
Chair: Johanna Bussemer
Lea Ypi
Michael Brie
Joshua Wavrant (tbc)
14:00 Rosa Luxemburg and the Written Word
Chair: Julia Killet
Kate Evans, "Writing Red Rosa: creating the graphic biography of Rosa Luxemburg"
Helen Scott, "Rosa Luxemburg's Literary Analysis"
Dana Mills, "'By itself every book is something terrible unapproachable': Rosa Luxemburg as a reader & culture enthusiast"
16:00 Rosa Luxemburg Today: The Accumulation of Capital and The Mass Strike in the Crisis of Neoliberal Capitalism
Chair: Ingo Schmidt
Riccardo Bellofiore, "Stagnation and progress in Marxism after Rosa Luxemburg"
Radhika Desai, "Capitalist contradictions and imperialism in Rosa Luxemburg's thought"
Rida Vaquas, "Rosa Luxemburg's political mass strike and the international labour movement today"
Robert Ovetz, "The continuing relevance of The Mass Strike: Reading Rosa Luxemburg as strategy"
18.00 Closing keynote presentation by Peter Hudis, "Using Rosa Luxemburg to understand racialized capitalism"
Download the full programme in PDF form here: https://www.rosalux.de/fileadmin/images/EnglishWS/rosa150/Online-Flyer_RL_at_150.pdf.
No registration is required to participate. Watch the conference live on our Facebook page: www.facebook.com/rosaluxglobal/