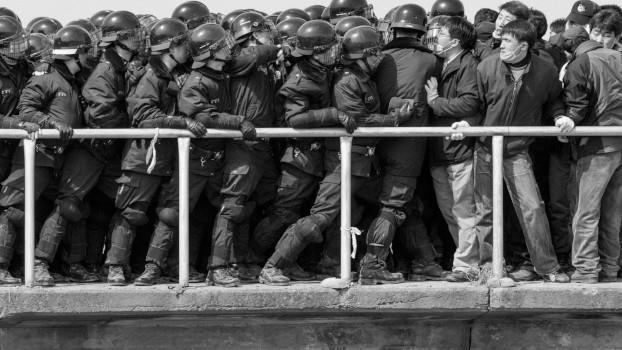 Die Podiumsdiskussion adressiert Potenziale und Herausforderungen an der Schnittstelle von politischem und künstlerischem Handeln. Wo liegen Freiheiten, Möglichkeiten und Grenzen ästhetischer Praktiken und Ausdrucksformen für politische Realitäten?
Ausgangspunkt für das Gespräch ist das Projekt «In Search of Magic – A Proposal for a New Constitution for the Republic of Iceland» (Libia Castro & Ólafur Ólafsson, 2017 – heute), eine mehrstimmige Musik- und Visual-Art-Performance, die alle 114 Artikel der vorgeschlagenen neuen isländischen Verfassung von 2011 zum Leben erweckt. Die neue Verfassung wurde nach der politischen und wirtschaftlichen Krise 2008 von der isländischen Öffentlichkeit entwickelt, um zu einer gerechteren und demokratischeren Gesellschaft beizutragen. Am 20. Oktober 2012 stimmte die Bevölkerung für die neue Verfassung, die jedoch noch nicht vom isländischen Parlament ratifiziert wurde. Indem sie ein breites Spektrum von Künstler*innen und Zivilist*innen zusammenbringt, arbeitet das Duo gemeinsam mit der Öffentlichkeit im Geiste der zivilen Massenbewegung und fordern ­eine offenere, aktivere und direktere Demokratie.
Prof. Dr. Sabeth Buchmann ist Professorin für Kunstgeschichte der Moderne und Nachmoderne an der Akademie der bildenden Künste Wien. Forschungsschwerpunkt sind Praktiken der Probe und der Topos des Unfertigen in bildender Kunst, Film, Theater, Theorie und Politik.
Daniela Trochowski ist geschäftsführendes Vorstandsmitglied der Rosa-Luxemburg-Stiftung und Vizepräsidentin des Humanistischen Verbands Berlin/Brandenburg. Die Diplom-Volkswirtin gehörte dem Parteivorstand der Partei DIE LINKE an und war bis Oktober 2019 Staatssekretärin im brandenburgischen Finanzministerium.

Gäste (digitale Zuschaltung): Libia Castro & Ólafur Ólafsson (ES/IS) verweisen, teils unter Einbeziehung weiterer Akteur*innen der Zivilgesellschaft, ästhetisch auf Defizite demokratischer Willensbildung und Möglichkeiten sowie Grenzen von gesellschaftspolitischer Partizipation.
Das gesamte Programm der Ausstellung und Veranstaltungsreihe Art 5 Kunst und Demokratie finden Sie hier.

Aufgrund der aktuellen Zulassungsbeschränkungen sind maximal 30 Person im Raum erlaubt. Anmeldung über contact@platform-muenchen.de
Die Veranstaltung wird aber auch digital übertragen. Link: https://us06web.zoom.us/j/83742909930


Eine Veranstaltung des Art5 e.V. in Kooperation mit dem KEV.
Contact
Dr. Julia Killet
Regional Office Director, Bavaria, Rosa-Luxemburg-Stiftung Bayern/Kurt-Eisner-Verein