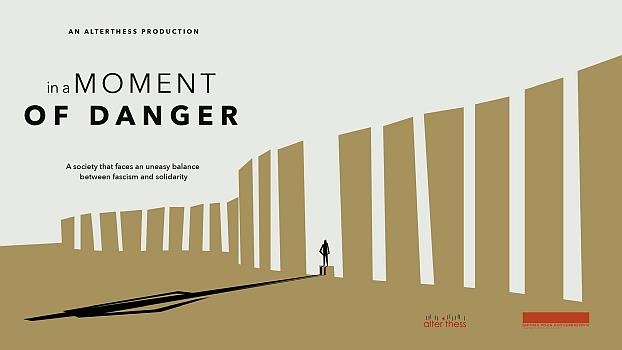 Im Roten Salon der Volksbühne stellt sich das antifaschistische Forschungsprojekt Antifascist Europe vor, das aktivistische Initiativen, Journalist*innen und Wissenschaftler*innen aus ganz Europa umfasst und die Entwicklung transnationaler Netzwerke rechtsextremer und rechtspopulistischer Parteien, auch im Europäischen Parlament, sowie neonazistischer und faschistischer Gruppen beobachtet.
Anschließend präsentieren wir «Mainstreaming the Far Right in Greece: Gender, Media, Armed Forces and the Church», herausgegeben von Rosa Vasilaki und Giorgos Souvlis und veröffentlicht unter der Schirmherrschaft der Rosa-Luxemburg-Stiftung.
Die Studie untersucht ein zentrales und politisch relevantes Thema: die Normalisierung des rechtsextremen Diskurses sowohl auf Seiten staatlicher Institutionen als auch auf Seiten der Zivilgesellschaft selbst. Der Beitrag dieser Studie liegt in der Untersuchung von Diskursen und ihren Akteuren und in der Beachtung der Bedeutung, die diese Subjekte ihrer eigenen Wahrnehmung ihrer Ideen zuschreiben, die von der extremen Rechten heute übernommen und popularisiert werden.
Nach einer kulinarischen Pause zeigen wir ab 13 Uhr den Dokumentarfilm:
«In a moment of danger» (Trailer)
Filmvorführung mit anschließender Fragerunde mit den drei anwesenden Filmemacher*innen Theofilos Kalaitzidis, Iason Bantios, Stavroula Poulimeni
Dauer: 104 min. / Griechisch mit englischen Untertiteln / Eine Produktion von Alterthess, mit der Unterstützung der Rosa-Luxemburg-Stiftung in Griechenland.
Das journalistische Team der unabhängigen Medien von Thessaloniki «Alterthess» begann mit der Erstellung dieses Films im Jahr 2018, «in einem Moment der Gefahr». Eine Zeit, in der in Thessaloniki, aber auch in anderen Städten des Landes, die faschistische Rhetorik und die «Mauern» für Flüchtlinge und Einwanderer immer mehr zunahmen.
Der Film ist eine Produktion von Alterthess, mit der Unterstützung des griechischen Büros der Rosa-Luxemburg-Stiftung.
Buch, Regie und Produktion: Theofilos Kalaitzidis, Iason Bantios, Stavroula Poulimeni
Recherche: Iason Bantios, Stavroula Poulimeni
Kinematographie, Schnitt: Theofilos Kalaitzidis
Musik: Stamatis Pasopoulos
Tonaufnahmen: Simos Lazaridis, Enes Achmet Kechagia
Tonmischung: Simos Lazaridis
Wissenschaftlicher Mitarbeiter: Dimosthenis Papadatos Anagnostopoulos
Erzählung: Foulis Bountouroglou, Dora Nestoridou
Plakatdesign und Gestaltung: Blind Studio
Eintritt frei – Die Veranstaltung findet auf Englisch statt.

Contact
Franziska Albrecht
Project Manager for Western Europe, Rosa-Luxemburg-Stiftung