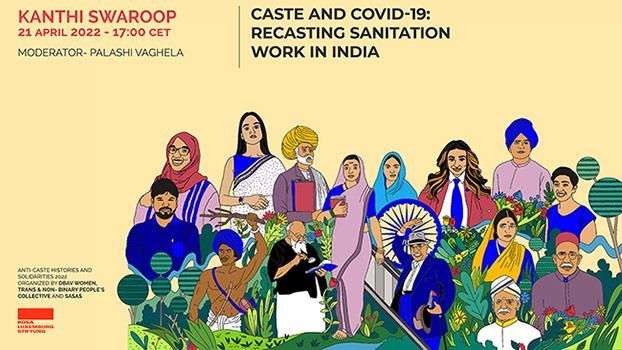 Dalit, Bahujan, Adivasi, Vimukta, and other anti-caste communities in South Asia, have long-standing histories of fighting against caste oppression. In their efforts, these diverse communities have envisioned democratic futures, futures free of caste, be it in the form of the utopia of Begumpura (city without sorrows) or by converting into other egalitarian faiths or imagining collective identities. For long, these communities have fostered solidarities that have been in the making, at times contested, other times fragile, and yet other times strong and emancipatory. Through oral histories, these knowledge communities have passed on equally emancipatory ideologies. With each passing generation, they have reimagined and redefined themselves. To commemorate this rich past and to continue the contemporary dialectics, 'Dalit Bahujan Adivasi Vimukta Women, Trans, Non-binary People's Collective' and 'South Asian Scholars and Activists Solidarity' bring forth this 'Anti-caste Histories and Solidarities' lecture series in collaboration with Rosa-Luxemburg-Stiftung.
In this series, some contemporary intellectuals, writers, artists, and activists from diverse anti-caste locations will reflect on pertinent questions: how do historically oppressed diverse communities with emancipatory movement histories investigate, imagine, and build anti-caste solidarities? Why is engagement with these histories and solidarities critical? How caste still dominates and shapes the lived realities of Dalits and many other marginalized groups in India? How do the state and its system as it exists fails and yet remain the only source for the oppressed castes and minorities to seek justice? These are some of the challenging questions scholars and activists of anti-caste scholarship and movements have engaged with for several decades. Yet many questions remain unanswered, get distorted, or remain sidelined due to their complexities. This lecture series attempts to engage with these complex questions in the spirit of continuing the knowledge exchange.
Kanthi SwaroopCaste and COVID -19: Recasting Sanitation Work in India
21/04/2022 at 17.00 CET
Moderated by Palashi Vaghela
Registration link:
https://us06web.zoom.us/webinar/register/WN_scPW37A4QyqeidSGS-2erQ
The discussion will be held as an online seminar in English. Preregistration is necessary.
Since time immemorial, caste has played a decisive role in determining sanitation work in India. In the wake of the COVID - 19 outbreak, the role of sanitation workers in
containing the infection spread has been widely discussed. Here, the focus is on the sacrifices of sanitation workers by foreclosing any possible debate on their rights. For India,
COVID -19 also proved to be a catalyst of social and technological change that brought globally circulating discourses and practices which put sanitation work on a
new footing —a discourse and practice beyond caste. While COVID-19 provoked the conceptual transformation of sanitation workers from taboo figures to more respected workers in the valued cluster of public health warriors, this
acknowledgement and recognition did not last long, rapidly fading away with the disappearance of fear induced by the virus. Through insights I gained from my fieldwork in Hyderabad, I discuss how
these are complex transformations where certain forms of old associations between dirt, caste, and occupation are reproduced in newer ways.
Kanthi Swaroop
is a PhD candidate at the Centre for Policy Studies, Indian Institute of Technology Bombay. His research focuses on Sanitation and Urban theory.

Palashi Vaghela
is a Dalit feminist scholar, writer, poet, activist, and engineer who is currently a PhD Candidate in Information Science at Cornell University. Her research interests lie at the intersection of science and technology studies, socio-cultural anthropology, and feminist studies. Her dissertation is an ethnography and oral history study of gender and caste relations in the Indian computing industry. Her research has been supported by the Cornell Institute of Social Sciences, Mario Einaudi Center for International Studies, Social Science Research Council-Mellon Foundation, and the University of Siegen. She is a student and early-career representative of the Feminist Scholarship Division of the International Communication Association. She has been working at the intersection of society and technology for the last ten years and practices critical hope in her work and life through the art of storytelling. She tweets at @lapshiii, and her written works in multiple publications, including CHI and CSCW, can be found here -
bit.ly/37BxWzowith
the marginalised communities as the active agents and in charge. As a person from a marginalised community, she finds it of utmost importance that her research practice stems from social justice and recognising the knowledge emerging from the communities. Her research focuses on studying the impact of Dalit women's activism on the policy process in Maharashtra. Dalit women's engagement in anti-caste feminist history has created valuable knowledge that can be instrumental in making the Indian policy process equitable and intersectional. She is currently developing a project on solidarities and archival of diverse anti-caste communities in India and the digital lives of activists from these anti-caste locations. She is also collaborating with the India and Me collective, a group of scholars and activists in India and the UK, in developing anti-caste, critical pedagogical modules to engage with the South Asian diaspora around the issues of caste, class, gender, religion, and intersectionality.
Contact
Dr. Leonie Schiffauer
Senior Advisor for East, South, and Central Asia, Rosa-Luxemburg-Stiftung