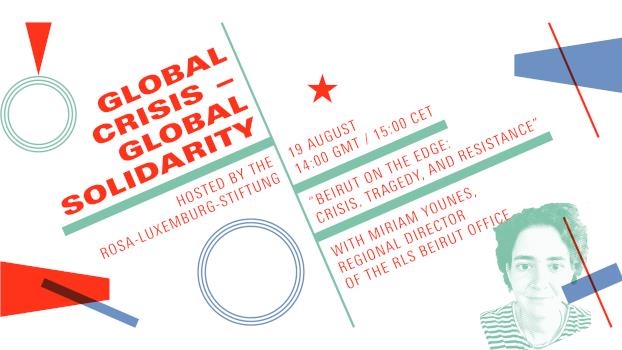 Livestream with Miriam Younes, Head of the Rosa-Luxemburg-Stiftung's Beirut Office
The disastrous explosion in the Port of Beirut on 4 August caused over 100 deaths and brought untold destruction to the Lebanese capital. Yet it is merely the latest episode in an ongoing political, economic, and social crisis that has gripped Lebanon for years and which now threatens to push the country over the edge. Join us for a discussion with Miriam Younes, Head of the Rosa-Luxemburg-Stiftung's Beirut Office, about the state of Lebanese democracy, the aftermath of the 4 August tragedy, and Lebanon's young social revolutionaries and how they are rising to the challenge.
Global Crisis – Global Solidarity
Our world is in trouble: exploding social inequality, a broken economy, climate catastrophe, and the rise of right-wing authoritarianism pose existential threats to civilization as we know it. And that was before the coronavirus struck.
The COVID-19 pandemic has brought into bold relief what many of us already knew: capitalism, whether of the protectionist or the globalized variety, has failed. It cannot produce the medical supplies we need at prices we can afford, it cannot allocate them fairly or effectively, and it cannot coordinate a humane, global response to a global problem. Now more than ever, it is abundantly clear that real answers to the burning questions of the future must be democratic and socialist.
To combat the pandemic, solve the climate crisis, restructure the economy, and build a better future, the Left in all of its diversity must rediscover and reinvent internationalism—as both a political framework for understanding capitalism and a strategy to transform it. In this spirit, the Rosa-Luxemburg-Stiftung is launching "Global Crisis, Global Solidarity", a bi-weekly livestream on the first and third Wednesday of every month with guests from around the world discussing the current health crisis, but also its economic and political implications and the way forward for the international Left. Tune in and join the discussion.

Contact
Loren Balhorn
English Web Editor, Rosa-Luxemburg-Stiftung