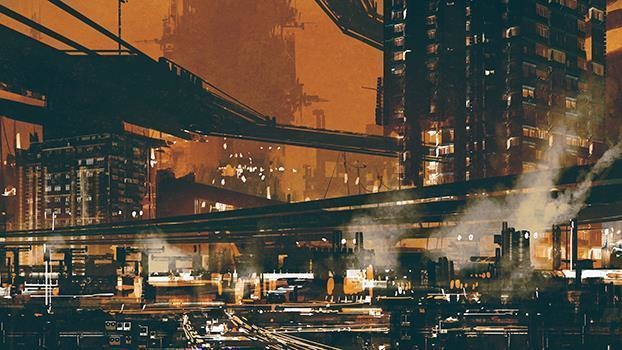 Luxemburg Lecture von Evgeny Morozov mit einem Kommentar von Andrej Holm.
***English below***
Der Begriff «smart» ist längst zu einem Schlüsselwort unserer Zeit geworden. Er scheint in der Lage, jeden beliebigen Gegenstand in ein Licht widerspruchsfreier Fortschrittlichkeit zu tauchen. Auch «Smart Cities» – rastlos angepriesen von Consultingfirmen, auf Technologiemessen und Konferenzen – rufen Bilder von intelligenten Ampelanlagen, vernetzten Mülltonnen und einem reibungslos funktionierendem öffentlichen Nahverkehr hervor.
Nachhaltigkeit ist in diesem Bild einer smarten Stadt oberstes Prinzip, Bewegungsströme der Einwohner*innen hochoptimiert und Sicherheit allumfassend gewährleistet – all das mit Hilfe einer umfangreichen Sensorik und Datenverarbeitung, die in Echtzeit alles flexibel verbindet.
Trotz erheblicher Werbemillionen und Hochglanzprospekte hat diese Erzählung inzwischen Risse bekommen, ist vielfach als neoliberal-technokratisches Herrschaftsprojekt enttarnt. Bürger*innen protestieren gegen Videoüberwachung und Gesichtserkennung, gegen die Privatisierung städtischer Infrastrukturen und Vereinnahmung des öffentlichen Raums. Und doch bleiben die großen Technologie-Konzerne bestimmende Akteure gesellschaftlicher Entwicklung, werden weltweit mit dem Umbau von Dienstleistungen, Stadtquartieren und städtischer Infrastruktur beauftragt. So wurde Google's Schwesterfirma Sidewalk Labs unlängst von der Stadt Toronto mit der Neuentwicklung eines ganzen Stadteils – Quayside – beauftragt.
Für einen kohärenten Gegenentwurf ist es höchste Zeit. Wie fügt sich «Smartness» in das allgemeine Set neoliberaler Praxen und austeritätspolitischer Zwängen ein, mit denen die Handlungsautonomie der Städte seit Jahrzehnten beschnitten werden? Welche Rolle spielt die Erfassung und Verarbeitung von Unmengen an Daten für die fortgesetzte Privatisierung öffentlicher Infrastrukturen? Welchen Handlungsspielraum haben hier kommunale Akteure angesichts globaler Finanzmärkte, knapper Haushalte und restriktiver Sparpolitik? Und wie lassen sich sowohl die Verfügung über unsere Daten, als auch notwendige soziale Infrastrukturen unter demokratische Kontrolle bringen?
Die Veranstaltung ist gleichzeitig die Vorstellung der Publikation «Die smarte Stadt neu denken. Wie urbane Technologien demokratisiert werden können» von Evgeny Morozov und Francesca Bria.
Evgeny Morozov ist einer der profiliertesten Kritiker des digitalen Kapitalismus und Autor mehrerer Bücher. Er schreibt für diverse Zeitungen u.a. The New York Times, The Economist, The Guardian und die Frankfurter Allgemeine Zeitung und beschäftigt sich mit der Frage, wie die großen Technologiefirmen unser Gesellschaft und Demokratie umbauen.

Andrej Holm ist linker Stadtforscher und lehrt an der Humboldt-Universität Berlin. Er ist Mitglied des «Begleitkreises zum Stadtentwicklungsplan Wohnen 2030» der Berliner Senatsverwaltung. Er forscht seit vielen Jahren zu Fragen der Gentrifizierung, Wohnungspolitik und Stadtpolitik und ist zu all diesen Themen auch politisch aktiv.

Katalin Gennburg ist Stadtforscherin und als direkt gewählte Kandidatin der LINKEN aus Treptow-Köpenick seit 2016 Mitglied des Berliner Abgeordnetenhauses. Sie ist Sprecherin für Stadtentwicklung, Smart City und Tourismus.
Die Veranstaltung findet auf Englisch statt, ist kostenfrei und ohne Anmeldung.
---
Luxemburg Lecture by Evgeny Morozov with a commentary by Andrej Holm.
The term "smart" has long become a key word of our time. This label seems to be able to turn any object into consistently progressive light. "Smart Cities" - relentlessly praised by consulting firms, at technology fairs and conferences - evoke images of intelligent traffic lights, networked garbage cans and smoothly functioning public transport.
This picture of a smart city presents sustainability as its supreme principle, with highly optimized movement of the inhabitants and a guarantee of all encompassing security - all implemented with the help of an extensive sensor technology and data processing, which flexibly connects everything in real time.
Despite heavy advertising money and glossy brochures, this narrative is showing cracks. It has been unmasked as a neoliberal-technocratic hegemony project. Citizens protest against video surveillance and facial recognition, against a privatization of urban infrastructures and an appropriation of public space. And yet, the big technology companies remain decisive players in social development and are commissioned with restructuring of services, neighborhoods and urban infrastructure worldwide. Google's affiliated company, Sidewalk Labs, has been recently commissioned by the City of Toronto to redevelop an entire neighborhood - Quayside.
It is a high time for a comprehensible counter proposal. How does "smartness" fit into the general set of neoliberal practices and austerity constraints that have curtailed cities' autonomy for decades? What role does the collection and processing of vast amounts of data play in the continued privatization of public infrastructures? What legislative options do local actors have to confront global financial markets, tight budgets and restrictive austerity policies? And how can both the disposal of our data and the necessary social infrastructures be brought under democratic control?
The event is also the presentation of the publication "Die smarte Stadt neu denken. Wie urbane Technologien demokratisiert werden können" by Evgeny Morozov and Francesca Bria.
Evgeny Morozov is one of the most prominent critics of digital capitalism and author of several books. He writes for various newspapers, among others are The New York Times, The Economist, The Guardian, and Frankfurter Allgemeine Zeitung. He is preoccupied with questions of how major technology companies are transforming society and democracy.
Andrej Holm is a leftist city researcher and teaches at the Humboldt University Berlin. He is a member of the "Begleitkreises zum Stadtentwicklungsplan Wohnen 2030" (Collateral Circle to the Urban Development Housing Plan 2030) of the Berlin Senate. He has been researching questions of gentrification, housing policy and urban politics for many years and is also politically active on all these topics.
Katalin Gennburg is a city researcher and was 2016 directly elected for Die Linke in Treptow-Köpenick (Berlin) to the Berlin House of Representatives. She is Spokesperson for Urban Development, Smart City and Tourism.
The event will be held in English, is without tickets or registration.
Contact
Martha Dörfler
Web Editor/Video Projects, Rosa-Luxemburg-Stiftung