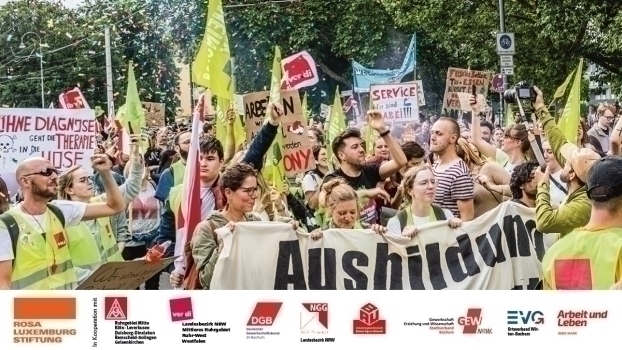 On the weekend of 12 to 14 May 2023, the Rosa Luxemburg Foundation, in cooperation with local and regional trade union affiliates and other trade union-related actors, is jointly organizing the fifth conference on "Trade Union Renewal" at the Ruhr University Bochum. The event is supported by the university's RUB/IGM Joint Working Group and the Institute for Social Movements.
After the outstanding success of the Braunschweig "strike conference" in 2019, attended by more than 800 people, hundreds of activists from different trade unions, academics, and people from strike solidarity groups are also expected at the Bochum conference. The aim of the conference is to exchange experiences, network, learn from each other, and discuss how we can win the coming disputes with new, offensive strategies. The programme's 25 working groups, plenary sessions, and networking meetings includes more than 150 participating colleagues who will bring their issues to the conference.
Please provide the following information when registering: Name, place, company, union/organization, and let us know in the field Bemerkungen if you need educational leave or childcare.
If you want to support the mobilization for the conference, you can order flyers to distribute to colleagues and to display at events and posters to hang up. Please send an email with your postal address and the desired number of flyers to streikkonferenz@rosalux.org.
Contact
Fanni Stolz
Senior Fellow for Care and Health, Rosa-Luxemburg-Stiftung