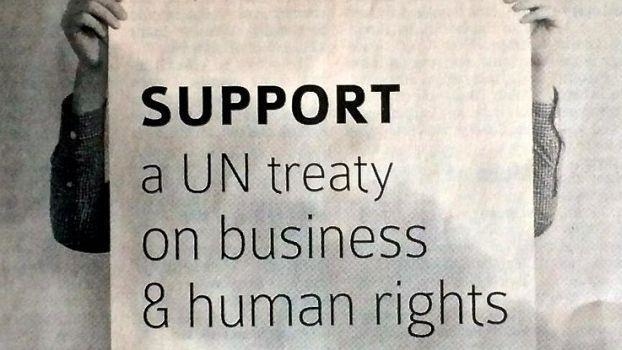 Die globale Wirtschaftsordnung ist aus den Fugen. Die Machtkonzentration global agierender Unternehmen nimmt unaufhörlich zu. In Handels- und Investitionsabkommen sichern sie sich weitgehende Rechte, einfach nur, weil sie es können. Diese Machtkonzentration und das endlose Streben nach Profit haben jedoch einen Preis: Weltweit sind schwerwiegende Menschenrechtsverletzungen durch Unternehmen zu beobachten und in vielen Fällen bleiben diese bisher unbestraft. "Wirtschaft" und "Menschenrechte" – wie passt das also zusammen? Und wer hat dabei die Kontrolle?
Viele transnationale Konzerne sind in Ländern der Europäischen Union beheimatet. Die Länder der EU werden nicht müde, sich selbst als Hüter der Menschenrechte international zu präsentieren, doch an mehr als freiwilliger Selbstverpflichtung scheinen sie nicht interessiert zu sein.
Gemeinsam mit unseren Gästen wollen wir diskutieren, was die europäischen Länder konkret tun müssten, um Menschenrechten weltweit verbindlich Vorrang zu gewähren und welche Rolle insbesondere Deutschland dabei spielen sollte.
Zur Einführung zeigen wir ab 19.00 Uhr einen Dokumentarfilm aus dem Jahr 2017, der sich mit Menschenrechtsverletzungen und Umweltschäden im Textilsektor befasst.
Programm:
19:00 – 20:00 Uhr Filmvorführung
20:00 – 21:30 Uhr Podiumsdiskussion
Irene Maria Plank (Leiterin des Referates Wirtschaft und Menschenrechte des Auswärtigen Amtes)
Michel Brandt (MdB, DIE LINKE)
Akhona Mehlo (Centre for Applied Legal Studies, Südafrika)
Julia Duchrow (Brot für die Welt)
Markus Löning (Human Rights & Responsible Business)
Moderation: Caspar Dohmen (Wirtschaftsjournalist)
Die Veranstaltung wird deutsch-englisch simultan übersetzt.
Anmeldung bei Dorit.Riethmüller@rosalux.org
The event will be simultanously translated into English. Here is the English invitation.

Mehr Informationen finden Sie hier
Contact
Dr. Till Bender
Senior Advisor for International Politics and North America, Rosa-Luxemburg-Stiftung