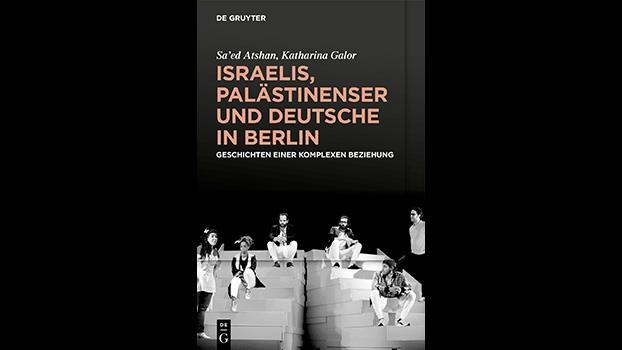 The Rosa Luxemburg Stiftung together with De Gruyter cordially invite you to the online book talk "The Moral Triangle" – "ISRAELIS, PALÄSTINENSER UND DEUTSCHE IN BERLIN. Geschichten einer komplexen Beziehung" by Katharina Galor & Sa'ed Atshan.
Berlin is home to Europe's largest Palestinian diaspora community and one of the world's largest Israeli diaspora communities. In their book, The Moral Triangle: Germans, Israelis, Palestinians, that is now available in the German translation (De Gruyter 2021), Sa'ed Atshan and Katharina Galor draw on ethnographic fieldwork and interviews with Israelis, Palestinians, and Germans in Berlin to explore these asymmetric relationships in the context of official German policies, public discourse, and the private sphere. They show how these relationships stem from narratives surrounding moral responsibility, the Holocaust, the Israel–Palestine conflict as well as Germany's recent welcoming of Middle Eastern refugees.
We are happy to invite you to a digital book talk with the authors, Katharina Galor and Sa'ed Atshan, on 15 December 2021, 7pm CET.
Please register here. The event will be held in English.
Katharina Galor is an art historian and archaeologist specializing in the visual and material culture of Israel-Palestine. She is currently the Hirschfeld Senior Lecturer in Judaic Studies at Brown University. Galor has also taught at the Hebrew University and the Ecole biblique et archéologique française in Jerusalem, at Tufts University and Rhode Island School of Design in the US, and, most recently, at Humboldt University in Berlin. Her publications include The Archaeology of Jerusalem: From the Origins to the Ottomans (co-authored with Hanswulf Bloedhorn; Yale University Press, 2013), Finding Jerusalem: Archaeology BetweenScience and Ideology (University of California Press, 2017), and, with Sa'ed Atshan, The Moral Triangle: Germans, Israelis, Palestinians (Duke University Press, 2020). She is currently at work on Jewish Women: Portraits of Conformity and Agency, a project supported by a grant from the Leo Baeck Institute, Berlin.
Sa'ed Atshan is an Acting Associate Professor of Anthropology at Emory University and Associate Professor of Peace and Conflict Studies at Swarthmore College. Atshan previously served as a Postdoctoral Fellow at the Watson Institute for International Studies at Brown University. He earned a Joint PhD in Anthropology and Middle Eastern Studies and an MA in Social Anthropology from Harvard University, and a Master in Public Policy (MPP) degree from the Harvard Kennedy School. He received his BA from Swarthmore in 2006. He has two recent books, both of which were published in spring 2020: Queer Palestine and the Empire of Critique (Stanford University Press) and the co-authored (with Katharina Galor) The Moral Triangle: Germans, Israelis, Palestinians (Duke University Press). Atshan has been awarded multiple grants and fellowships, including from the Rosa Luxemburg Foundation, Open Society Foundations, National Science Foundation, Social Science Research Council, Woodrow Wilson National Foundation, Andrew Mellon Foundation, and the Jack Kent Cooke Foundation. He is also the recipient of a Paul and Daisy Soros Fellowship and a Kathryn Davis Fellowship for Peace. He is also a Palestinian, Quaker, and LGBTQ human rights activist.
Auszüge aus dem Buch / Excerpts from the book
Contact
Juliane Drückler
Senior Advisor for Israel, Project Manager Israel and Palestine, Rosa-Luxemburg-Stiftung