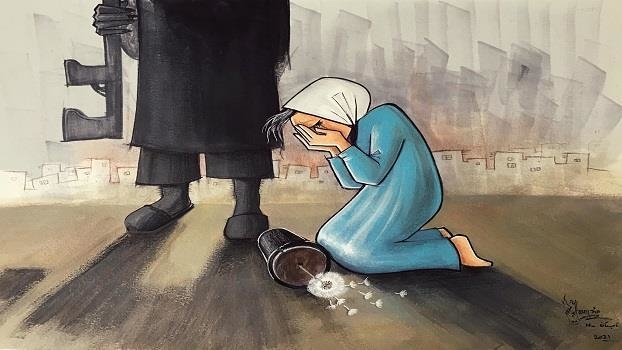 For English see below

Naheed Esar, 33 Jahre, arbeitete von 2014 bis 2020 für die afghanische Regierung, als stellvertretende Außenministerin. Zuvor war sie als politische Aktivistin und Analystin tätig. Derzeit studiert sie in den USA Kulturanthropologie.

Alptraum, Schock, Enttäuschung und Hoffnung: Im Rahmen unserer Reihe «Nach dem Fall Afghanistans» wird Naheed Esar in dem Livestream über die vergangenen Ereignisse in ihrem Land sprechen und auf die aktuelle Situation der Bevölkerung in Afghanistan eingehen. Was bedeutet es für die Menschen wieder unter den Taliban zu leben? Was heißt das insbesondere für Frauen und die junge Generation? Wer trägt aus ihrer Perspektive Verantwortung? Wer ist besonders bedroht? Was erwartet sie von westlichen Organisationen? Was können wir konkret tun?

Moderation: Julia Killet, Kurt-Eisner-Verein / Rosa-Luxemburg-Stiftung Bayern

Veranstaltungssprache ist Englisch. Es wird eine Übersetzung ins Deutsche geben.

Für die Teilnahme an der digitalen Veranstaltung ist eine Anmeldung notwendig unter: klick hier
Zur Reihe «Nach dem Fall Afghanistans»
Der Rückzug der westlichen Truppen aus Afghanistan hinterlässt einen Scherbenhaufen. Angetrieben vom amerikanischen Interesse an einem schnellen Ende wurde die afghanische Gesellschaft sich selbst überlassen. Eine zerstrittene Regierung in Kabul und schwache Sicherheitskräfte konnten den Taliban nichts entgegensetzen. So konnten die Taliban als Sieger in die Städte einziehen und die über die letzten zwanzig Jahre gewachsenen Institutionen einer offenen Gesellschaft, Schulen, Medien, Musik, Universitäten schleifen. Die Partizipation von Frauen an diesen Bereichen der afghanischen Gesellschaft fand ein abruptes Ende. Viele Menschen, die an eine demokratische Zukunft unter dem Schutz westlicher Mächte geglaubt hatten, sehen sich getäuscht und sind nun auf der Flucht. Mit unserer Reihe wollen wir diese Entwicklungen nachzeichnen, Protagonist:innen und Expert:innen zu Wort kommen lassen, und fragen, was nun zu tun ist.

Interview mit Naheed Esar in der taz: https://taz.de/Ex-Vize-Aussenministerin-zu-Afghanistan/!5791175/

Weitere Infos zum Thema: https://www.rosalux.de/dossiers/das-scheitern-des-westens

Eine Kooperationsveranstaltung des Bayerischen Flüchtlingsrates und des Kurt-Eisner-Vereins, Rosa Luxemburg Stiftung—New York Office, Pro Asyl, Bellevue di Monaco, Campus di Monaco und der Rosa-Luxemburg-Initiative Bremen.
---
Naheed Esar, 33, worked for the Afghan government from 2014 to 2020, as deputy foreign minister. Prior to that, she was a political activist and analyst. She is currently studying cultural anthropology in the United States.

Nightmare, Shock, Disappointment and Hope: As part of our series «After the Fall of Afghanistan», Naheed Esar will speak in the livestream about past developments in her country and address the current situation of the people in Afghanistan. What does it mean for people to live under the Taliban again? What does it mean for women and the younger generation in particular? Who is responsible from her perspective? Who is particularly threatened? What does she expect from Western organizations? What can we do concretely?

Moderation: Dr. Julia Killet, Kurt Eisner Association / Rosa Luxemburg Foundation Bavaria

Event language is English. There will be a translation into German.
To participate in the digital event, registration is required at: click here.
On the series «After the fall of Afghanistan»:
The withdrawal of Western troops from Afghanistan leaves a shambles. Driven by American interest in a quick end, Afghan society has been left to fend for themselves. A divided government in Kabul and weak security forces could do nothing to counter the Taliban. Thus, the Taliban were able to enter the cities as victors and grind down the institutions of an open society, schools, media, music, and universities that had grown over the last twenty years. The participation of women in these areas of Afghan society came to an abrupt end. Many people who had believed in a democratic future under the protection of Western powers see themselves deceived and are now on the run. In our series we want to trace these developments, let protagonists and experts speak, and ask what needs to be done now.
Interview with Naheed Esar in the taz: https://taz.de/Ex-Vize-Aussenministerin-zu-Afghanistan/!5791175/
Further information on the topic: https://www.rosalux.de/dossiers/das-scheitern-des-westens
A cooperation event of the Bavarian Refugee Council and the Kurt Eisner Association, Rosa Luxemburg Foundation-New York Office, Pro Asyl, Bellevue di Monaco, Campus di Monaco and the Rosa Luxemburg Initiative Bremen.
Contact
Dr. Julia Killet
Regional Office Director, Bavaria, Rosa-Luxemburg-Stiftung Bayern / Kurt-Eisner-Verein